Planned Giving Menu
Planned Giving

The Innkeeper's Gift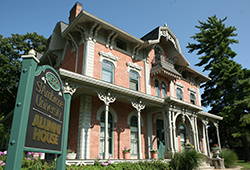 If walls could talk, the home at 1527 Brady Street in Davenport would tell stories of its many occupants, including local businessmen and their families, bishops of the dioceses, a variety of guests, and most recently, the alumni of a local university.

Although St. Ambrose University did not officially become involved with the property until 1995, the connection can be traced to 1907, when Bishop James Davis of the Diocese of Davenport purchased the property. Davis was the chairman of the St. Ambrose board of directors. The residence continued to serve the needs of the diocese until 1933.

The home's connection to St. Ambrose was renewed when L. Herbert Tyler became the owner of Bishop's House Inn. Tyler was friends with longtime St. Ambrose professor and world-renowned calligrapher, Fr. Edward Catich. After restoring the beautiful Italianate mansion and running the bed and breakfast for a few years, Tyler worked with the university in 1995 when St. Ambrose purchased the Bishop's House Inn property at an attractive price. Tyler retained his third floor apartment via a lease agreement. The second arrangement was a charitable gift annuity where he used appreciated stocks to provide a gift to the university's library campaign in exchange for a charitable gift annuity. He received numerous benefits, including the ability to avoid capital gains taxes, a charitable deduction, a partially tax free lifetime income stream, and the ability to support a philanthropic cause in which he believed.

The bed and breakfast remained operational under the direction of St. Ambrose University. It served the needs of the university and provided a unique experience to Quad City visitors. In 2008, the mansion began a new chapter of its history when it became the home of the St. Ambrose Advancement & Alumni Relations office. The relationship between Herbert and the university continued until his death in May 2013. L. Herbert Tyler's generosity and impact will continue to be felt by St. Ambrose, as well as other community organizations that benefitted from his philanthropy.