Planned Giving Menu
Planned Giving

Honoring A Beloved Husband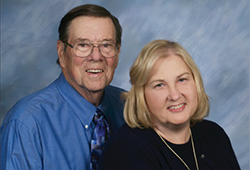 Gene Bleuer '60 never thought about attending college. It was only after returning from the Korean War did he think about furthering his education. Gene, like other veterans, attended St. Ambrose with the help of the GI Bill. He was a non-traditional student who worked and took care of his family while obtaining his degree.

St. Ambrose gave Gene a good foundation and education. He also learned interpersonal skills like how to work in a team and project management. His education and skills helped Gene obtain a high level management position, the manager of production operations at Farmall Works. During his life, he worked at International Harvester, John Deere, and General Motors.

Sadly, Gene, a caring person of tremendous faith, passed away in June 2011. His wife, Jackie Christopher, knew how important St. Ambrose was to Gene. "St. Ambrose gave him a good education which allowed him to have a good life," Jackie said. In his honor, she has created the Gene K. Bleuer scholarship by establishing a trust that names St. Ambrose and this endowed scholarship. The scholarship will benefit students majoring in math and science related degrees such as engineering, physics, nursing and IT. Helping students in these majors makes sense: Gene was an engineer; Jackie works in IT; and Gene's daughter, Nancy, is a nurse.

In memory of Gene, Jackie will begin funding the scholarship through annual gifts on July 2, his birthday. This will allow the scholarship to be awarded while Jackie is alive, so she can meet the student recipients. "We shared the philosophy that more people need to go to college. Gene would have wanted to help others and make their journey easier."