Planned Giving Menu
Planned Giving

Albert Naal '57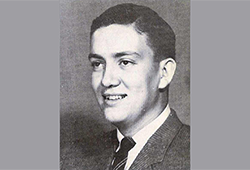 Albert Naal '57 made life-long friendships and learned business principles that he used to run a successful plumbing and heating business with his brother after graduation. He developed a love for St. Ambrose University that began with choosing our university because its location enabled him to experience college life and remain close to his family in Joliet. The Catholic values and traditions that shape St. Ambrose University also shaped and guided his life.

Al met his wife Fran in 1959. During their time together, Fran often heard about Al's appreciation for St. Ambrose. Al passed away in 2006, but his love for St. Ambrose left an impression on Fran. In 2010, she established the Albert C. Naal '57 Endowed Scholarship for a business major.

"I started the scholarship because of Al's love for St. Ambrose," she explained. "It's a way to perpetuate his love for the university, and as a grandmother of five grandchildren, I know how expensive it is for today's students to attend college. This scholarship offers a way for me to give back."

Meghan Dillie '14 is the first recipient of the scholarship. "Winning this scholarship means a lot to me because it will help me continue my college career at St. Ambrose. My Catholic education is shaping me into a well-rounded person, ready for every situation that will come my way."

Jim Sczepaniak, Fran's current husband, has also established a scholarship in honor of his late wife at her alma mater. Fran and Jim recognized that establishing scholarships in honor of their late spouses provides legacies and enriches the lives of others.

You also may want to make it easy and convenient to have a bequest included in your will. The language link below shows how a bequest can very easily be included in your will.

You might find it helpful to print this page and the bequest language. Please feel free to give this information to your attorney. If he or she has any questions, please contact us.

Click Here to review sample bequest language.

*Please note: The name and image above is representative of a typical donor and may or may not be an actual donor to our organization. Since your benefits may be different, you may want to click here to view a color example of your benefits.