Planned Giving Menu
Planned Giving

Ray Nolin '61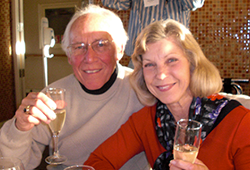 Fifty years ago, St. Ambrose University alumni helped to make the dream of a college education available to Ray Nolin '61.

As His 50th college reunion fast approaches this Fall, Ray and his wife Kitty are thankful for the generosity of those Ambrosians. Since graduating from St. Ambrose, Ray and Kitty have modeled that same generosity of spirit and support by sharing their time, talent and resources with St. Ambrose for the benefit of current Ambrosians, most recently with a major gift to the Center for Health Sciences Education, through an IRA charitable rollover.

Ray commented: "They (St. Ambrose Alumni) supported me and Kitty and I have continued that tradition of generosity. To paraphrase Pogo, 'they' are now us. Our 50th reunion is a good reminder to all alumni to remember the generations of Ambrosians who helped you achieve your dream of college, and to make a commitment to do the same for future generations of St. Ambrose students." The generosity of spirit and support is what helps to make St. Ambrose a vibrant community and links the generations together."