Planned Giving Menu
Planned Giving

Successful CFO Give Back to the University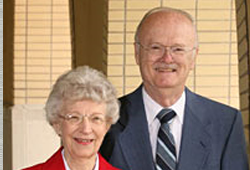 Bob '59 and Betty Van De Voorde are thankful for the college experience Bob had at SAU. Bob credits the university with transforming him from a shy, reserved young man who didn't aspire to attend college to an involved student leader who went on to have a successful business career with Eagle Foods, retiring as Executive Vice President and CFO.

In appreciation for Bob's experience at SAU and the life they have had together, Bob and Betty established an endowed scholarship for an accounting major through a charitable distribution from their IRA. As a result, they avoided paying income tax on this distribution and have the opportunity to meet the student who is benefitting from their scholarship.

Through Bob and Betty's generous philanthropy, future generations of students will have the opportunity to have their lives transformed through their St. Ambrose education.