Planned Giving Menu
Planned Giving

Deferred Gift Annuity Provides Peace of Mind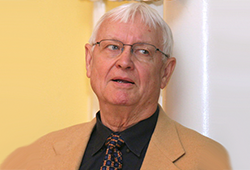 Like so many people without family, John Schulte '57 of Burlington, Iowa worried about outliving his resources. He found a solution to his concern through the establishment of a deferred gift annuity with St. Ambrose University.

John, a retired teacher and landlord found peace of mind through this gift plan, which provides him with a generous charitable tax deduction, a life income stream, a portion of which is tax free. "This gift plan helps me support my alma mater generously while giving me the security of income for life, along with a charitable deduction," commented John.

"I recently toured campus and was amazed to see how much it has grown! I know that my gift helps to strengthen the university's endowment. I feel good about supporting future generations of Ambrosians."