Planned Giving Menu
Planned Giving

Generous Bequest Benefits Student Athletes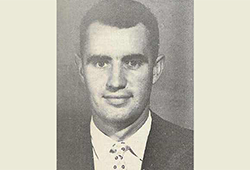 Throughout his life, Paul W. Allaert '57 generously supported St. Ambrose. As a former Fighting Bee football player, one of the areas closest to his heart was Athletics. He gave to the golf and football teams and was a major supporter of the NAIA Men's National Golf Championships held at TPC Deere Run. In addition to financial support, Paul also cheered on the Bees during games and hosted athletic get-togethers when the teams visited Florida. "Paul was supportive in many ways and was always very generous to Athletics," said Jeff Griebel '76, Men's Golf Coach.

In May 2011, Paul passed away. His estate plan included a $50,000 bequest to the Athletics department. Paul's gift has enriched the lives of St. Ambrose's student athletes in many ways. Improvements were made to the softball field including new batting cages and a new scoreboard. A golf training area was added in the Ambrose Dome. Lee Lohman Arena now has a new sound system, wall and column pads, scorer's tables and laundry units. Thanks to Paul's gift, St. Ambrose now meets all NAIA court requirements.

Paul's bequest enabled him to make a lasting impact on St. Ambrose's student athletes.