Planned Giving Menu
Planned Giving

Charitable IRA Rollover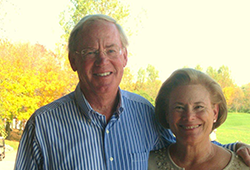 Thomas Dwyer, '65 and his wife Jane were inspired to establish an endowed scholarship at St. Ambrose University in appreciation for the outstanding educational experience Tom received at the university. "I was able to mature in a small, serious environment, converse with professors, schedule courses to complete my degree in 4 years, and make life-long friends", Tom shared in a recent conversation.

Tom, a native of Milwaukee, Wisconsin who had a successful career in the residential/ investment real estate business , arrived at St. Ambrose from Pius XI Catholic High School, and learned about the university during a college information fair.

The idea of an endowed scholarship appealed to Tom and Jane because they are aware of the "rising cost of higher education, and the challenges faced by students and their families to consider and finance a first class college education." A gift that provides scholarship support in perpetuity, for future generations of Ambrosians was particularly appealing.

Funding the scholarship through a charitable IRA rollover gift provided a tax advantage for Tom and Jane as well, because Tom had reached the age where a distribution would be required from his IRA. It made financial sense to make a legacy gift at this time. "I would like to see others develop and benefit as I did from my St. Ambrose experience. An endowed scholarship provides the perfect opportunity for us to give back so future generations of students may benefit as I did from my time at St. Ambrose."