Planned Giving Menu
Planned Giving

Focused on the well-being of others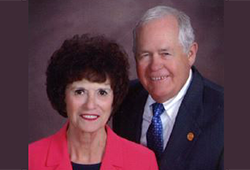 For Dr. Tom '62 and Mary '61, '62 Hughes, the medical profession was not just a career choice, it's been a lifelong passion they've shared.
Tom and Mary met during the first days of class their freshman year at St. Ambrose in 1958 when Tom escorted Mary to the library, but they didn't begin dating until later.
"I was a dating fool my first semester," Mary recounted. "When the first semester grades were reported to the school paper, I had straight As, and all those boys left. I told one of my professors, Dr. Vinje, about this and she said the same thing happened to her. 'I have the perfect fellow for you, Tom Hughes,' she said. I didn't realize until years later that she was referring to 'my Tom.' Tom was never intimidated by my intelligence and always encouraged me to use my gifts."
The couple became acquainted after Tom got a job at Mercy Hospital, and they married one year after graduation. From there, they embarked on impressive careers in the medical field.
Tom received his MD from the University of Iowa and an MPH from John Hopkins University. He completed a residency in Aerospace Medicine and served 20 years in the U.S. Air Force as a flight surgeon, medical facility commander, staff officer, and clinician. Upon retirement from the Air Force, he worked as an occupational medicine clinician with a variety of employers before establishing his own practice as a consultant and Independent Medical Examiner for employers, attorneys, and insurance companies.
Mary's accomplishments are no less amazing. After completing her BSN degree, she went on to complete a Master's Degree in Guidance and Counseling at the University of Illinois, Edwardsville. During her career, she served as the Director of Nursing at a hospice program in Belleville, Ill., Nursing Director at the Hillcrest residential adolescent treatment facility in Dubuque, Iowa, and also taught at Clarke College in Dubuque and NICC in Peosta, Iowa. She was instrumental in establishing an adolescent addiction and eating disorders treatment program during one of her work experiences.
"It was difficult for Mary to pursue a professional career when I was in the Air Force, and wives of commanders were discouraged from holding a paying job," Tom said. But Mary used the education she received at St. Ambrose to serve the military community. She provided well-baby, birthing, and parenting classes, and facilitated vision and scoliosis screening programs.
In addition, the couple was charged with carrying out the responsibilities of a professional medical officer and commander during the Vietnam period.
"Doctors were being drafted out of their schooling or training programs, and they were not pleased," Tom remembered. "I had to make them fulfill their commitments and Mary was challenged to help the spouses accept their husband's responsibilities. The experience at St. Ambrose prepared both of us with being called to service in our academic and spiritual experience on campus."
After many years of hard work, the Hugheses found themselves at a new place in life.
"We've reached a point in our lives where we can choose what we want to do rather than doing the things we have to do, and you start to reflect on what got you there," Tom explained. "I am thankful to be at this point in our lives, and I'm thankful to St. Ambrose. Having spent 20 years in public service, we don't have as much as similar professionals, but we are fortunate to have an income stream through our 401Ks, providing us the ability to make charitable donations that are fully tax free."
Using a charitable IRA rollover, Tom and Mary established a scholarship in 2012 in appreciation for the favorable impact the education they received at St. Ambrose had on their lives and to fulfill their desire to help students achieve their dreams of a college education. Their scholarship supports students pursuing a degree in the field of health sciences or focusing their studies on pre-med with the intention of attending medical school.
"We feel indebted to St. Ambrose as our lives would be very different if we hadn't gone there." Mary said. "We are hoping to help students who find themselves in a situation similar to the one we experienced, which was having very little money, have a little bit easier time attending college. We feel [the medical field] is a wonderful field of service and in line with our Catholic values to serve others."