Planned Giving Menu
Planned Giving

Living Simply…and leave the rest to God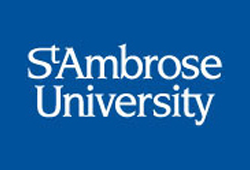 Ronald Reagan once said, "Live simply, love generously, care deeply, speak kindly, leave the rest of God."
It's a quote that perfectly sums up Joe Borowski's '44 approach to life.
Joe grew up in Moline, Ill. as part of a hard working family. He was the only boy in a family with six children. His approach to life was shaped by his upbringing, growing up during the Depression and watching his Polish parents work tough jobs to support their family. He received his degree in Early Childhood Education from St. Ambrose University, but spent some of his career serving his country as a first lieutenant in the U.S. Marine Corps, and becoming a day trader in his retirement years.
When asked to describe Joe, St. Ambrose Advancement Associate Vice President and Major Gift Officer Ed Finn described him as quiet and generous.
"He was very shy and didn't like attention," Finn remembered. "He lived simply and never needed anything. As a devout Catholic, he felt it was his responsibility to help others in need. He supported his church in Nevada and was very proud of his contributions."
Despite moving to Las Vegas, Joe remained engaged and interested in the news at St. Ambrose University, asking for updates on the latest happenings.
"When I would visit Joe, we would follow his daily routine," Finn said. "We would go to Mass and then exercise together. At breakfast, I would let him know what was new on campus. He was interested in all aspects of St. Ambrose, but especially enjoyed details pertaining to his time on campus and new projects related to his interests, like wellness and fitness."
Joe, he directed some of his philanthropic gifts to support the mission and students of the university. He was a loyal supporter of the annual fund at the President's Club level and also set up unrestricted charitable gift annuities.
"This gift plan had benefits for him and the university. It allowed him to remove some of the risk from his portfolio of stocks, while receiving a lifelong income stream, which he greatly appreciated," Finn said.
After a life lived simply, Joe passed away in June 2014 at the age of 89. His philanthropic legacy supported those for whom he cared deeply. He left his estate to his sisters, his church, and to St. Ambrose University.
Even though details are being finalized of how Joe's gift will ultimately support the mission of St. Ambrose, we are certain he would have been excited about our current projects, like the addition of a
Wellness Center
and the impact his generosity will make on future Ambrosians. We are honored to carry on his legacy.