Planned Giving Menu
Planned Giving

Q & A – Young Alumni + Life Insurance = Legacy Gifts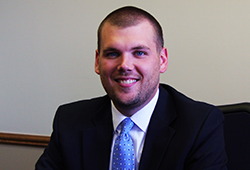 Pat Olsen '08 is a financial services professional with Olsen Financial, but his education about the financial services industry began long before he entered college. He decided during his junior year in high school that he wanted to join his father, Don, in the family business, started in 1978. St. Ambrose provided a wonderful mix of being close to the home office and the family-like atmosphere Pat loved.
After Pat graduated, he's never been far from campus. He is a President's Club member, attends many alumni events, and speaks to the campus finance club. So when Associate Vice President for University Advancement Sally Crino contacted him about joining the Planned Giving Advisory Council, it was a natural fit. One of Pat's areas of expertise is life insurance and annuities. Read on to learn about the process Pat used to set up a scholarship of his own for future Ambrosians.
Q. Why is life insurance a good vehicle for a planned gift, especially for younger individuals?
A. It can enhance the value of the donation to the charity. For example, the cash someone can give to a charity on an annual basis is limited. If that same amount is used to purchase a life insurance policy that benefits the charity, the gift is maximized, regardless of when the person passes away.
Younger people feel they can't give a lot of money because of student loans, new mortgages, and beginning a career. The outlay of a life insurance policy when you are young is very low. It's a good way for people to start their charitable giving and know it will make an impact.
Q. What are the ways someone can use a life insurance policy to leave a gift?
A. The process can also be done in a variety of ways, each with their own advantages. If the donor retains ownership, they have access to the cash value. They can also name the charity as beneficiary of part or all of the policy, which means they can provide for their family and the charity simultaneously. Some people may prefer to gift the policy to the charity, which may include some tax advantages for the donor. (Additional basic information about gift possibilities using life insurance can be found here.)
Q. You personally have set up a scholarship fund at St. Ambrose using a life insurance policy. When did you begin the process of establishing your scholarship?
A. I started thinking about setting up a scholarship shortly after graduation. Because I'm in the business, it was at the forefront of my mind. I recommended the strategy of using a life insurance policy for charitable giving to others, and it made me think about what I could do.
Q. What does your scholarship support?
A. I haven't done a lot of planning on the details, but right now, I would like to see it support a deserving student in the College of Business, which is the college I went through. I might change my thoughts later in life. At this point, I am working with the St. Ambrose Advancement and Alumni Engagement Office on the best way to use the funds.
Q. Why did you choose to set up an endowed scholarship at St. Ambrose?
A. I have a similar scholarship set up for Rotary International because I am a member of the North Scott Rotary, and I plan to continue using this model for other organizations where I am involved. I have to be passionate to give. I have to know what the organization does and what it stands for. It was a no-brainer to set up a scholarship at St. Ambrose. St. Ambrose still feels like home to me, and I want to perpetuate that experience for others.
Q. Why did you set up your gift now instead of waiting until later in life?
A. My profession helped me understand the benefits. I knew that my age would allow me to pay a low premium for a sizeable life insurance policy. This method also allows me to grow my gift as I am able. For right now, it was one of the only ways I could turn a few hundred dollars every year into a five figure gift.
Q. Why should younger individuals consider making a planned gift?
A. Younger individuals want to make a difference. That's why they attend college; so they can make a difference in the world. They can also make a difference at an organization by donating their time and treasures. Making a planned gift can ensure a lasting impact on an organization.
Q. Where do you start when you are considering making a planned gift?
A. Start with the organization you are going to support. Understand what they do and how they will use the gift. Find out what processes that organization already has in place for those wanting to make donations. After that, learn about the most advantageous way to accomplish your goal. You may get this information through the organization itself, through professionals who specialize in cases similar to yours, or through a combined effort of these two parties.
Q. Based on your expertise, what's one thing you think everyone should know about charitable giving?
A. It is a win-win situation. The organization wins because they know they will have a legacy gift someday. The donor wins because they know they are going to leave a legacy.
Thank you to Pat for his time and expertise. If you are interested in receiving educational materials to help you begin planning your estate or refining the plan you already have in place, please contact Sally Crino at 563-333-6080 or CrinoSallyE@sau.edu.

You can also browse our planned giving website to find articles related to specific topics.