Planned Giving Menu
Planned Giving

Q & A – Preparing for Retirement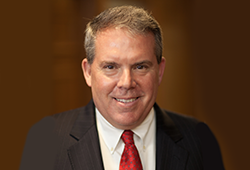 Attorney Scott VanVooren has been with Lane & Waterman, LLP for 31 years. He focuses primarily on transactional work, including mergers and acquisitions, contract negotiations, entity formations and organizational governance. Recently, he agreed to use his talents to assist the University's Planned Giving Advisory Council, however, Scott's relationship with St. Ambrose began long before he joined the Advisory Council.
Scott grew up in Davenport, and when a teenager, the Bakrow family moved in next door. Dr. William Bakrow was the president of St. Ambrose University from 1973 to 1987. Dr. Bakrow expanded Scott's knowledge of the university, and as a young lawyer, Scott assisted St. Ambrose with its legal work. He has been involved with a number of local philanthropic organizations during his career. Most recently, he has served in a number of capacities with the Quad City Symphony Orchestra, including Governance Committee, Treasurer, President, and Director.
Recently, Scott answered some questions for us about planning for retirement. Keep reading to learn more.
Q. When should someone begin preparing for retirement?
A. As soon as possible. You ought to start thinking and planning for it with your first job. For a younger person, that may not be at the forefront of their mind, but once they can contribute to a retirement plan they should. If possible, they should max out their contribution. Time is your friend when it comes to saving for retirement, and there are a lot of financial and tax benefits for putting money in 401K. In addition, the power of compounding the contributions over time is incredible.
Q. What are various "checkpoints" or triggers in a person's career or life where a person should evaluate their retirement plan?
A. Regardless of when you start saving for retirement, some of the checkpoints to evaluate your retirement savings are getting your first job, marriage, having children, changing jobs, financial windfall, and death of a family member.
Q. How does a person know if they have enough for retirement or when they can retire?
A. It's based in large part on how much you want for retirement income and how comfortable you want to be in retirement, which is why retirement planning is important. There are a lot of calculators and tools that can project how much you will have at certain ages and how much you can take out each year projecting into your late 80s and 90s. Using one of these tools can be a nice checkpoint to help you evaluate your retirement savings to ensure you will meet your goal. It's a good idea to use these tools as soon as you can so you can get an idea of what your plan will provide and then you can execute it. It will also bring you comfort as you approach middle age and into the last decade of your work life.
Q. What is one common mistake or misconception people have about retirement planning?
A. People tend to put off retirement savings, thinking they can make it up down the road. With the power of compounding on a tax free basis, however, you can never make that time up. If you can get the money in there early, you are going to be much better off as you approach retirement age.
It's not easy to start planning for retirement right after college or after starting your first job. Most people have student loans and other obligations to pay. I recommend that people participate in retirement plans to the extent they can even if it is a small amount each month. Get into your employer's plan, and contribute enough to at least take advantage of the employer's matching contribution, if any. If you aren't eligible for your employer's plan, consider a Roth or traditional IRA and contribute what you can. Let time be your friend. The money a young person can get into an IRA or pension plan is more beneficial than the money they can contribute in 10 or 15 years because it accumulates tax free.
Q. Is it possible to give philanthropically during retirement without jeopardizing the funds needed to live?
A. Yes, a well planned retirement plan allows you to be philanthropic. It is a function of how much you want to have in retirement and how philanthropic you want to be. I've found that people continue their philanthropic desires into retirement.
Q. How does estate planning fit with retirement planning?
A. They go hand in hand. Retirement assets are often the largest asset in an estate. A retirement plan must coincide with an estate plan so you can maximize the benefits to beneficiaries and philanthropic entities.
Q. Are there benefits to working on your estate plan and retirement plan at the same time?
A. Yes. These two plans should be worked on together. If you do that, it provides a road map to success and give you comfort you and your beneficiaries are going to have the funds they need.
Q. What's one thing you want everyone to know about retirement planning?
A. Start early, create a plan, execute it, and review it periodically.
Thank you to Scott for his time and expertise. If you are interested in receiving educational materials to help you begin planning your estate or refining the plan you already have in place, please contact Sally Crino at 563-333-6080 or CrinoSallyE@sau.edu.
You can also browse our planned giving website to find articles related to specific topics.