Planned Giving Menu
Planned Giving

Q & A – Preparing for a Trip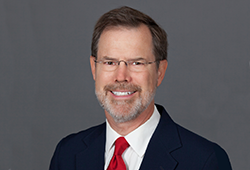 Q & A - Preparing your Estate Plan Prior to Summer Travel
When you talk to Mike Jansen '75, it's easy to tell he has a passion for his alma mater. His enthusiasm is easily understood after you learn that his family has St. Ambrose connections dating back to the Academy in 1928. That passion is something that served him well during his time in the university's Advancement office in the 1980's. At the time, the university didn't seek out many planned gifts. Mike was part of a culture shift; a team with passion for the university and a vision of what St. Ambrose could become. To accomplish their goal, they began asking others to consider St. Ambrose when making estate plans. These efforts to educate others about the importance of planned gifts are visible today, as current students enjoy a campus that has grown exponentially over the past 25 years.
In his three decades as a development officer, Mike knows estate planning can be overwhelming. But one thing is for certain; in order for an estate plan to relay your wishes, it must be kept up to date. One appropriate time to review your estate plan is prior to a long trip. Mike has shared some guidelines regarding how to review your plan prior to a much anticipated vacation. Review these questions and answers to learn more.
Q. Why should someone think about their estate plan before a trip?
A. A trip provides a good time for people to get their estate plans, wills, or both up to date. Make sure new members of the family, such as grandchildren, are included in your plans in the event something happens. It's also wise to let someone, like your executor, know where to find all your documentation, including insurance policies, bank accounts, and legal documents.
Q. Approximately how far ahead of a trip should someone review their estate plan to ensure there is adequate time to make all changes, if necessary?
A. Three months should provide you with the time needed to make sure everything is thought through. This includes getting on the calendar of your advisors and waiting for all changes to be made.
Q. Who should be involved in the review of an estate plan prior to a trip?
A. A spouse, if married, and children if you wish for them to be involved in the decision making. Children should at least be aware of your plans in order to reduce issues when settling the estate. Just ask any attorney or judge involved in probate disputes when family members turn on each other. You'll also want to consult your advisors, such as your financial, legal, and tax advisors.
Q. What specific items in an estate plan should be reviewed prior to a trip?
A. Consider reviewing the beneficiary designations and contracts, such as retirement and insurance policies. Also, make sure your will is up to date to account for any changes that have occurred within the family since the last time you reviewed your will.
Q. How do I make changes to my estate plan if needed?
A. Make a list of the items that need attention, and then go to the appropriate advisors for each item. For example, you might need to visit with your insurance or financial professional for retirement plan changes. An attorney can help with changes to your will and a CPA or attorney can address your current income tax situation.
Q. Should any additional items be added to your estate plan if you are planning a trip out of the country?
A. Nothing specific needs to be changed, but I would recommend leaving your contact information with those back home so they can find you if needed. Be aware that sometimes our cell phones do not work in other countries, so plan ahead. It might also be wise to check with an advisor about the effectiveness of your living will, also known as an advance directive, in other countries. I would highly suggest bringing a copy of this document with you.
Q. Anything else people should consider before embarking on a long trip?
A. Make sure those back home who might be involved if something happens, like survivors or executors, know where to find everything, such as bank accounts, retirement accounts, life insurance policies, and investment information. Be sure they have access to your safe deposit box and your will.
Q. Based on your expertise, what's one thing you think everyone should know about charitable gift planning?
A. It can be a win-win situation. When I worked at St. Ambrose, I saw a wonderful gift created that moved the donor to tears of joy because they saw what it was doing for university and what it was doing for their family. Planned gifts can be set up to take care of the university and a donor's family, and the cost can be minimized or possibly avoided. A planned gift does not mean the donor is disinheriting someone. Instead, they can take care of their family and create an economic benefit, a legacy, for the university.
Q. Any additional points of wisdom?
A. Donors should look at all available options to make sure they maximize their charitable dollar. Planed giving requires thought and planning and there is a cost involved to set it up, but the end result is a tremendous benefit for all involved. I had the pleasure of witnessing a tremendous legacy established at St. Ambrose where a donor endowed a scholarship and also took care of his family. The children were so happy with their father's decision because it left a great legacy that spoke of him and his values.
Thank you to Mike for his time and expertise. If you are interested in receiving educational materials to help you begin planning your estate or refining the plan you already have in place, please contact Sally Crino at 563-333-6080 or CrinoSallyE@sau.edu.
You can also browse our planned giving website to find articles related to specific topics.