Planned Giving Menu
Planned Giving

A Student of Life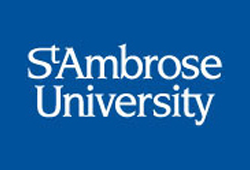 Most people say education is important. However, only a handful of people can say they dedicated their lives to education. James Foley '62 is one of those people. Not only did he dedicate his life's work to educating high school students about American history and economics, he sought out opportunities to enhance and enrich his own knowledge of the world around him.
James was born and raised in Davenport, Iowa. He and his family were devout Catholics. He attended St. Paul's Catholic grade school before attending Davenport High School (now Davenport Central High School). Following graduation, James worked at the Rock Island Arsenal before being drafted into the service during the Korean conflict. After serving, he returned to Davenport and attended St. Ambrose College where he received his Bachelor's degree in History, as well as his teaching credentials.
After accepting a position at Davenport High, James chose to continue his education by obtaining his Master's degree in History at the University of Iowa while he continued teaching full time. He also attended Western Illinois University on a post graduate basis and attained an Educational Specialist degree to qualify him for high level administrative work in 1979. He continued his career at Davenport Schools for 30 years, until his retirement in 1993.
After spending every day teaching classrooms of students, some might think James would have chosen relaxing hobbies; but that was not James. He loved learning and was well read on a variety of subjects, including trains, art, and religion. He enjoyed traveling regionally and internationally, as well as following his beloved Detroit Tigers.
And when this life-long learner wasn't learning, he was giving of his time and resources. Giving back was important to James. He frequently attended fundraising events and donated to causes and institutions he felt would help and improve people's lives. His generosity continued after his passing. James chose to support eight charities, including St. Ambrose University through his generous philanthropy and estate plan.
Kevin Kelly, Vice President of The Private Client Group at U.S. Bank in Davenport, worked with James's attorney, Theodore Priester whose office is also in Davenport, regarding the bank's role as executor of his estate. Kevin stresses the importance of getting a team of advisors assembled to ensure your legacy can be fulfilled.
"At U.S. Bank, we do not draft trust or will documents or provide legal advice. So we work jointly with legal advisors in advising clients regarding their estate plans. If an individual does not have an estate attorney, we are happy to provide recommendations. Frequently an attorney will meet with a client at no charge for an initial consultation. After the consultation the attorney will generate a letter of engagement indicating what services they will provide and their accompanying fees."
With a multitude of gift plans available today, Kevin knows that learning the vernacular can be intimidating as individuals consider planning their estate. However, he reminds them that, with the assistance of qualified advisors, individuals may discover the benefits of certain gift plans that a standard will cannot offer.
"With a will, people own property in their own names until their deaths. Following their death, an executor is appointed to administer the estate. Under a revocable trust, people transfer the property they own from their own name into the name of the trustee who then owns the property. At their death, since they do not own any property in their own name, there is no estate to probate and administer. A successor trustee, (individual or institution) manages and distributes the property following death according to the terms of the trust established during life. There is an added element of privacy if all property is owned by the trust because no will or probate inventory is filed at the courthouse."
Regardless of the gift plan chosen, it is important to gather individuals you can trust to assist in carrying out your wishes. Financial institutions, such as U.S. Bank, can serve clients in a variety of capacities, including executor of a will or trustee. The bank assumes the associated major responsibilities, including administering the estate or trust and distributing assets, making certain tax decisions, and paying estate debts or expenses.
If you have questions regarding your estate or how to get started planning a legacy at St. Ambrose, feel free to contact Sally Crino at 563-333-6080.