Planned Giving Menu
Planned Giving

Rooted in Faith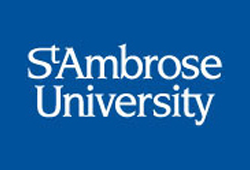 "They were devoted to their faith and felt strongly about perpetuating it," longtime friend Linda Lannan '75 recalled. "They lived in the faith and wanted to help others improve theirs."

This goal of improving faith of others guided the couple's philanthropic giving throughout their lifetime. They carefully chose organizations rooted in the Catholic faith. By being selective and finding those groups whose beliefs aligned with their own, they worked to ensure the perpetuation of the faith in their community.

"Betty supported the Rock Island Catholic schools, St. Piux X Church, and the nun's retirement fund," Lannan said. "She wanted to make sure the faith could continue and those who practiced the faith would be taken care of."

Another organization that fit into their plan was St. Ambrose University. Being a Marycrest graduate, Betty was familiar with St. Ambrose, its diocesan heritage, and Catholic Intellectual Tradition. The couple supported the university for many years and were regular attendees at events, such as the President's Club dinner. Lannan remembers the dinners as a chance for the couple to enjoy an evening with others who believed strongly in the value of a Catholic education.

The Whitteds' legacy of perpetuating the faith continued in their estate plans. Working with the St. Ambrose Advancement Office, the couple established an endowed scholarship to benefit a Catholic student active in Campus Ministry. They also established an endowed fund to support the Catholic Identity of St. Ambrose University. At the 2015 Bishop McMullen Legacy Circle Brunch, University Chaplain Fr. Chuck Adam '82 explained the impact of the Whitteds' gift."

"Betty would be happy to see the vibrancy of faith life at St. Ambrose... For the past several years, students have had the opportunity to live on the Spiritual Floor in McCarthy Hall. In agreeing to live on that floor, they hold each other accountable to take part in a certain number of spiritual activities on campus and to promote the things that Campus Ministry makes available to students, including regular scheduled masses, one of the six different retreats, and joining with students of other faith traditions in our Interfaith Council. We also encourage participation in service trips, social justice group, Ambrosians for Peace and Justice, and our environmental group Greenlife."

"Funds made available to Campus Ministry through the generosity of individuals such as Betty Whitted, also enable us to waive the expense of a room fee so that an upper class student can live on the Spiritual Floor and serve as a Peer Minister, a role we hope to expand in the future. Because of her generosity and foresight, St. Ambrose can extend the reach of our ministry programs to more students and so build up their faith lives, and in doing so, we build up the Church through the parishes they enter after graduation."

It appears the Whitted's careful planning paid off. They created a legacy very dear to their own hearts. Lannan said they would want others to know they can do the same.

"One person can make a difference. And in this case, one couple can make a difference."