Planned Giving Menu
Planned Giving

Opening Doors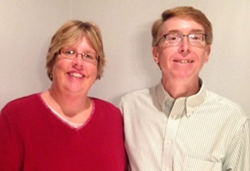 There's a quote from Lyndon B. Johnson stating, "We must open the doors of opportunity, but we must also equip our people to walk through those doors." Pat '05 MBA and Amy '04 MBA Igou feel strongly that the universities they've attended have done just that.
The couple is originally from north central Iowa. Pat attended Iowa State University to obtain a degree in mechanical engineering, while Amy went to Luther College for computer science and accounting. After college, the couple entered the working world. Pat joined an engineering consulting firm, but after a few years joined Amy at Deere & Company.
"After graduation, we entered the corporate world," Pat said. "Our education was our foot in the door. We knew it wouldn't carry us forever, but it gave us the opportunity to show what we could do."
As their careers progressed, they both started to see additional education was needed to open more doors, so they pursued MBA degrees at St. Ambrose.
"My position at Deere was more business oriented than was my position at the consulting firm," Pat recalled. "So a business degree seemed like something that would serve me well." Amy added, "In my field, in order to advance, you need an MBA."
The couple now resides in Cedar Falls. Pat is still working with Deere & Company, while Amy has discovered a new love, teaching. After obtaining her Ph.D., she pursued a career as an accounting professor at the University of Northern Iowa. Recently, the couple began planning their estate. Their passion for education was something they wanted to support with their plan. They chose to establish a scholarship fund at St. Ambrose, as well as at their undergraduate alma maters.
"Since we both have degrees from St. Ambrose, we have a vested interest in ensuring the university remains strong," Pat and Amy agreed. "St. Ambrose is a real asset to the Quad Cities, and we want universities that we are affiliated with to stay strong and have a good reputation. Both of us have personally experienced the great benefits of higher education in our lives. Through education, individuals can change their lives."
The couple's scholarship at St. Ambrose will benefit a student in the College of Business who is succeeding academically. The other criteria are fairly open to allow all deserving students the opportunity to receive additional financial assistance.
Despite their distance from campus, Pat and Amy are involved in the university in other ways. Pat now serves on an advisory council for the mechanical engineering department, as well as the campaign committee for the new Wellness and Recreation Center on campus.
"St. Ambrose has a close-knit community and it allows its students many options for activities and studies," Pat said. "We're happy to support that."
And what about more degrees?
The couple laughed, "Education is an important part of our lives, but now we are both done. No more degrees".