Planned Giving Menu
Planned Giving

Understanding the Folwell Chair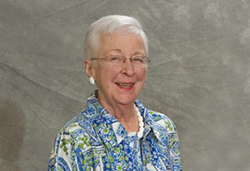 The Frank and Dorothy "Jane" Folwell Chair was established in 2001. Jane, an energetic volunteer and generous benefactor for educational, health, and community groups and initiatives, created a chair tailored to her interest in political science and pre-law. Her passion for these topics stemmed from her impressive 30-year career as a congressional staffer in the U.S. House of Representatives and in the United States Senate. The chair's creation and its legacy also recognized Jane's late husband, a highly respected Quad City businessman and philanthropist.
Jane's overall goal in establishing the chair was to enhance the quality of education, particularly in the area of political science in law. She hoped this would be accomplished in a variety of ways, including the establishment of an advisory committee of working professionals to strengthen the program and more internships and conferences for pre-law students.
Fifteen years after its creation, the impact of the Folwell Chair is undeniable! Jane's wishes are carried out through:
All of the Folwell activities are driven by the Department of Political Science and Leadership Studies' commitment to helping students interested in careers in community and public service. The Folwell Chair also oversees the Folwell Academic Scholarship awarded annually to students with financial need who excel in the classroom and demonstrate an interest and commitment to community and public service.
Although Jane passed away in 2013, her legacy lives on. She would be proud of the countless St. Ambrose alumni who've entered the legal field, due in part to her generosity and desire to open doors for students. Nate Mundy '04 is an alumnus who can attest to Jane's legacy. After obtaining undergraduate degrees in Political Science and Philosophy at St. Ambrose, Nate went on to law school at Drake University and was admitted to practice law in 2007. He practices law in the areas of criminal defense, personal injury, and contract litigation.
"[The Folwell Lecture] was an opportunity for us, as students, to bring legal minds and professionals to the school to explore everything the study and practice of law had to offer. The Folwell Chair also allowed our mock trial team to travel to several tournaments, to gain experience and practice the skills we would need in the practice. I have used the benefit of the lecture series and the mock trial experience in my practice to represent clients, win cases, and network with other attorneys. The Folwell Chair is an immeasurable contribution to the Ambrose experience and the Iowa legal community," Nate said.