Planned Giving Menu
Planned Giving

A Lifetime Leads to a Legacy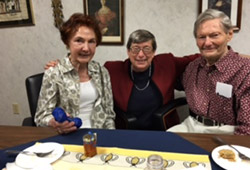 Some people remember the moment when St. Ambrose became a part of their lives, like during a college visit. But Chuck and Ilo McBurney don't have one defining moment. Instead, they have a lifetime of St. Ambrose experiences that allow them to appreciate the university from almost every angle.
The history probably begins with Chuck's mother who was an English teacher at St. Ambrose. Chuck himself is a St. Ambrose Academy graduate, as are his two brothers. Then there are two of the five McBurney children who are St. Ambrose graduates. In addition, the McBurney's are regulars at campus events, including the Pacem in Terris award ceremonies, Feast of St. Ambrose Masses, and concerts and musicals in Galvin.
Given the time they've spent on campus, it's no surprise that when you ask this couple, who's been married for 62 years, why they feel strongly about St. Ambrose, they are not short on words.
"We feel St. Ambrose is a landmark Catholic school, which has been made possible through the efforts of students, faculty, staff, alumni, and friends. It offers higher education in every field and has shown tremendous growth and development under outstanding leadership. However, it is not too large a school for young students leaving home for the first time. Instead, it offers a wonderful mix of quality residence halls and on-campus activities. In addition, it is an intricate part of the city of Davenport and is an important base for the city."
Some might say the McBurneys are also an intricate part of this city. Ilo worked as a nurse at Mercy Hospital in Davenport, and Chuck put his Bachelors in Electrical Engineering and Masters in Industrial Management to work at multiple organizations. He designed power lines to electrify farms for Eastern Iowa Light and Power Cooperative, wrote and illustrated patent applications and designed traffic control systems at Eagle Signal Company, and coordinated electronic projects for the U.S. Navy and Air Force. In addition, the couple managed a 32-unit apartment complex.
Even though the McBurney's don't have a defining moment when St. Ambrose entered their lives, they do remember why they decided to create a legacy at the institution that's been so much a part of their history.
"Because we were asked," Ilo recalls. "Steve Goebel (former Vice President of Advancement) asked us to consider giving to St. Ambrose. And when it was time to sell our business after 38 years, we learned of the tax implications and options available to us through various Northwest Bank seminars. After many discussions with the bank's trust department and our attorney, we decided a charitable remainder trust was right for our situation. It allowed the trust department to manage and invest the proceeds which provided us with a monthly payment for 15 years."
After 15 years, the remainder of that trust was distributed to three local charities, including St. Ambrose. The funds will be used to support scholarships for deserving students.
"Managing the business for 38 years took a lot of work. I didn't realize it at the time, but all that hard work paid off. We had good renters, and when it was time to sell the business there was something leftover to make it all worthwhile. The good Lord did that for us. Now some wonderful students who may not have been able to afford tuition will get the help they need."