Planned Giving Menu
Planned Giving

Kreiters add to growing campus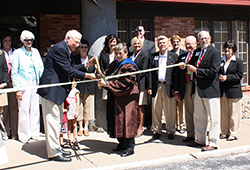 For over 30 years, Dr. Richard Kreiter's orthopedic office was across Locust Street from St. Ambrose University. He had a front row seat to observe the expansion at the university, including the construction of numerous residence halls and academic buildings to accommodate the growing number of students. During those years, Dr. Kreiter and his wife, Judy, were regular contributors to the university.
The orthopedic practice also grew and the building was upgraded and enlarged to meet the need. Then in the early 2000s, Dr. Kreiter became an independent contractor with ORA Orthopedics. The change eliminated the need for his own office building, so the Kreiters were left with a major decision.
"Judy and I put much thought into what would be the best use of my office building. We were impressed over the years by the growth of the university – academically and physically. Our building would give SAU its first footprint across Locust Street. This would contribute to the future of the university, as well as to the Hilltop Campus. We couldn't think of any plan that would be more beneficial to our community."
From there, the Kreiters worked with Sally Crino, associate vice president for advancement at St. Ambrose, on the details and found they could receive a tax advantage, as well as an income stream from their gift of real estate gift. In 2008, Kreiter Hall became home to the Enrollment Data Center, Communications and Marketing office, and Institutional Research. The Kreiters appreciated the assistance they received from Sally to transfer the property and reveal the benefits of the arrangement. They hope others will follow their example and learn more about various gift plans.
"It is humbling to drive by Kreiter Hall, and from what I hear it is a very useful space for the university. It is so important to work with one's estate planning attorney and tax advisor to find ways to give back to the community and to support causes you care about. Judy and I consider this a win-win situation."