Planned Giving Menu
Planned Giving

A Legacy to Support Learning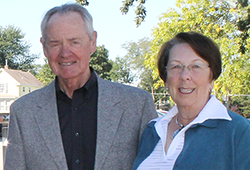 Gabe '65 and Kay Verstraete are retired educators who designed innovative, academic programs and endeavored to improve schools during their careers.
Gabe was responsible for establishing numerous school-to-work internships with area businesses during his time as the assistant director for the State of Illinois Vocational Education. Kay, a 1966 Marycrest grad who received a PhD from University of Iowa in Educational Leadership, worked on school improvement issues, reading clinics, adult education, and consulted on project training for area vocation centers and retired as a superintendent of elementary schools in Lincoln, Illinois.
Given their background, it's quite an honor to know they are impressed by the programs and leadership at St. Ambrose University.
"We've been living in this community almost all our lives, so we can see all the great things the students are doing and the wonderful programs that have been developed at St. Ambrose. Some of the graduate programs developed over the last few years, especially in the health field, are outstanding. We are especially impressed with Sr. Joan's leadership, what she has done for the university, and her relationship with the student body."
Gabe said he's always been impressed with St. Ambrose, even as a student.
"It's a small school that gives a lot of individual student attention. When I was a freshman, I had six classes and at least four of my professors had PhDs. When I spoke to some of my high school classmates who went to larger schools, some of them didn't see a PhD until junior or senior year. The high quality of staff at St. Ambrose is reflected in the high quality of students and learning."
The Verstraetes said there was no doubt in their mind that they would leave a legacy at St. Ambrose, it was just a question of when they would be able to act on their plans. In mid-2016, those pieces came together and Gabe and Kay named SAU as the beneficiary of their retirement accounts.
"There wasn't much to it," Gabe said. "We met with our financial advisor, filled out the form, and sent a copy to St. Ambrose and our attorney. It was pretty simple."
When asked why they left a legacy at St. Ambrose, the Verstraetes responded that they wanted to support the university in its efforts. They hope their unrestricted planned gift will provide for students in need, similar to their yearly President's Club donation.
"Aside from academics, the university instills a moral message in its student body that guides students into their adult lives and decisions moving forward. We believe St. Ambrose is doing a superb job, and it is our pleasure to support it."