Planned Giving Menu
Planned Giving

A Positive Impact, Now and in the Future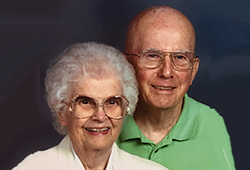 When Mike Mulligan talks about his parents, there's a theme that quickly develops — service to others. Almost every aspect of Tom '53 and Fran Mulligan's life incorporated service in some way.
"The two of them made a great team," Mike said. "They were dedicated to each other, dedicated to what they were doing and what the other one was doing. They volunteered for events and opportunities together. Everything they did helped others."
Tom's career in the higher education development field allowed him to work with institutions to further their missions and better serve their students. His position took the couple to Hawaii and then back to the Midwest, eventually settling in Kansas City, Missouri. Fran made her mark at the local YMCA. Her service as a loyal volunteer blossomed into a career at the organization, enriching the lives of many in their community.
In addition to their involvement for their local hometown, the couple also maintained a strong bond with St. Ambrose.
"[Working at St. Ambrose was dad's] first major job after his time in the Army. He worked in the development office, and that led to a lifelong career in the field. [St. Ambrose] was the place that got him started and set him on his course for life."
"They always maintained a very positive relationship with the school. My godfather was a classmate of my dad's. My parents were involved in alumni events in their area. Even after my dad retired, he made some stained glass bees as a hobby." Mike recalled.
Tom returned to campus in the mid-1990s to assist the university with the fundraising effort for the new library facility. Former Vice President for University Relations Steve Goebel remembers Tom's unique contribution to his alma mater.
"After a distinguished career in institutional fund-raising, Tom joined the firm of Campbell & Co. just at the time the Chicago firm was retained as fund-raising counsel for the Campaign for St. Ambrose University. In the first months of St. Ambrose's largest capital campaign in its history [at that time], Tom accompanied Campbell's president Russ Weigand for the feasibility study and campaign planning for the new St. Ambrose Library and re-purposing of McMullen Hall. I was impressed with Tom's devotion to his alma mater and his encouragement of involvement by his fellow alumni."
So after a lifetime of serving others, what does a couple like the Mulligans do?
They continue to serve.
The Thomas J. '53 and Frances M. Mulligan Family Trust was established to support scholarships for St. Ambrose students, with preference given to minorities. This trust works in conjunction with the Freeman Pollard Scholarship, a minority scholarship program established in 1988 in honor of the first African-American professor at St. Ambrose. The Mulligans believed education was an access point to greater opportunities in life and opened doors, especially to the underserved. Mike feels his parents' interest in helping minority students may have been influenced by their time in Hawaii.
"That experience exposed them to a level of diversity that a lot of other people didn't have at that time. It certainly shaped who they were, how they raised children, and how they interacted with people."
Mike was not involved in his parents' legacy planning, but sees the direct correlation between their lives and their legacy.
"I think [leaving a legacy] is what you can do to carry on who you are as a person. It is something that is ongoing and continues to help people in the future. Even if you can't be here, you can continue to have a positive impact on places you cared about."
Tom and Fran Mulligan were Ambrosians. They enriched lives for years and will for years to come.