Planned Giving Menu
Planned Giving

Students Express Thanks to Donors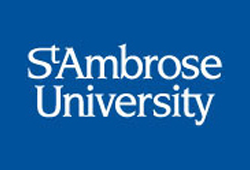 St. Ambrose appealed to me as a way to continue my faith in the midst of crazy schedules and homework that comes with being a student in the nursing program. I have been able to join the Nurses Christian Fellowship and attend Bridge bible study meetings. For me, nursing is another step in my faith. A career filled with service, sacrifice and care of others is one that has appealed to me for many years. My younger sister was taken to the neonatal intensive care unit only hours after she was born and stayed for three weeks. Though this was a trying time for our family, I have never forgotten how much better of an experience the nurses made it. I was 11 at the time, and only a few years later, I made the connection that I wanted to be that same light in the dark for struggling families. Your generosity to the students of St. Ambrose is helping dreams like mine come true every year, and for that I am extremely grateful. Your gifts do not go unnoticed or unappreciated and they truly effect the lives of the student recipients. Being one of them, I thank you from the bottom of my heart for believing in the dreams of St. Ambrose students and helping them become a reality.
Sincerely,
Leah Freihoefer '20
Pre-Nursing student
James Hagen '56 '93* Scholarship recipient
I have been blessed with a big family including two loving parents, five sisters, and one brother. My parents raised me in the Catholic faith and have provided me with a great example of how one should live out their faith. Growing up, I have been very active in the Church, primarily through alter serving, service trips, and by attending spiritual retreats. I have attended a Catholic School my whole life and continuously try to be active in the Church. These roles have been essential for maintaining my faith. Sports have also been a significant part of my life, since I played several and watched each of my siblings play sports. Several of the life lessons I have learned from sports have made me a better person and have aided my growth as a Catholic.
Being a Catholic University, St. Ambrose was very appealing. College is a time where an individual faces many challenges, and knowing that St. Ambrose has Christian principles, as well as several opportunities to grow in my faith, contributed greatly to my desire to attend St. Ambrose. Also, I wanted to play football in college and I was able to compete at the collegiate level in a sport I love. Lastly, St. Ambrose has a successful physical therapy program.
I recently was accepted into the Doctorate of Physical Therapy Program at St. Ambrose and I will continue my education here next fall. I chose this career path because I have always had the desire to help others, due to how I was raised and my Catholic ideals. Showing others compassion has always provided me with fulfillment, and becoming a physical therapist will give me the opportunity to provide care for individuals who are suffering. Also, when playing sports I faced many injuries and physical therapy played a significant role in my rehabilitation. Having this firsthand experience allowed me to recognize the importance of physical therapy and its role in assisting individuals in maintaining their quality of life.
I am extremely grateful to be a recipient of a prestigious scholarship. Being awarded for demonstrating Catholic values is something I hold in high regard. I want to thank you all, and I want to express my sincere appreciation for your tremendous generosity.
Sincerely,
Connor Obert '17
Ben & Dorothy Spiegel Scholarship recipient
Exercise Science/Human Performance & Fitness student, DPT Fall of '17
I came to Davenport from a small town in Illinois up in the Northwest suburbs of Chicago to pursue my dream of one day owning my own business. At the age of 18 I found myself lost and unsure of what I wanted to do with my future; I hadn't even looked at colleges when I graduated from high school. So rather than spend my time and money in school figuring it out, I decided I needed some motivation and direction before taking such a big step. So I booked my tickets and went to India and Thailand for an extended period of time, and then came back to the U.S. where I moved to a couple different states and worked odd jobs in places like Papa John's and family owned restaurants before coming to SAU.
I've been working in the food service industry since I was 16, and over my 6 years working my way through the ranks of various establishments, I've discovered that I am completely unsatisfied with the treatment of the people who work in this industry. I have met some of the most amazing people, who have worked their hardest to provide for their families with a "nine to five" job and work at the restaurant just to have enough money to pay the babysitter. So I decided to be a business major and open my own establishment that sets higher standards for the people of the food industry. When I toured St. Ambrose for the first time, I knew it was the place to groom me for the job. There was a feeling of warmth and inspiration that overwhelmed me when I walked into the Chapel on my first visit, and the more I saw, the more I wanted everything this campus had to offer. I have been determined to finish my degree at this amazing university since I first walked onto campus. Despite a lot of adversity, I have continued to pursue my education at St. Ambrose, and I don't regret a single moment of it.
I cannot thank you enough for your scholarship support; every bit has helped me work towards a goal I have had near and dear to my heart for a good portion of my adult life. I cannot fully express my gratitude in such few words; but nonetheless thank you so much.
With gratitude,
Twyla Pereira '18
Clement & Mary Dunn Ecclesiastical Scholarship recipient
Business Management & Marketing student