Planned Giving Menu
Planned Giving

A Special Place for Many Reasons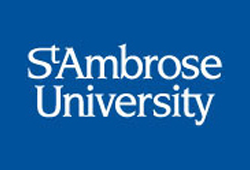 St. Ambrose is part of Matt '06, '11 MBA and Alana '05 Carroll's love story. The two fell in love with each other at St. Ambrose, and they also fell in love with their career paths and the institution as a whole.
"St. Ambrose is a place that lives out its mission and vision. In doing that, it has basically been responsible for all the good that's happened in our lives, directly or indirectly. I can trace most of the good things in our lives (after college) to the decision to go to St Ambrose," Matt said during a recent interview.
The couple's journey to St. Ambrose was influenced by family. Alana's family boasts many St. Ambrose graduates, including her mother, brother, as well as aunts, uncles, and cousins. Matt's mother set up his campus tour, wanting him to compare his top choice to another school.
"It only took that tour to change my mind," he recalled. "It felt like the right place for me, and it turned out just the way I hoped it would."
Matt and Alana met early on in their college career. Their paths crossed while playing intramural Frisbee their freshman year, and their relationship grew over the next few years. After graduating with their bachelor's degrees, the young couple headed for new adventures.
They married in 2008. Alana attended the University of Iowa for her Master of Accountancy and landed a job at Deloitte, a company specializing in auditing, consulting, tax and advisory services. Matt continued his education at SAU and received his MBA while serving as the production specialist for the school's Communications Department. They continued to be involved at St. Ambrose by becoming President's Club members and serving on the Alumni Association Board (Alana).
Then came a great opportunity 500 miles away. The couple moved to Nashville, Tenn., allowing Matt to take a job with the video production group Gamma Blast and alum Chad Denning '94. And despite the distance, their connection to St. Ambrose grew. Matt's work allowed him to be a part of some St. Ambrose productions, including Wine Festival commercials and the Building Our Future capital campaign video. The couple also met some fellow Bees in Tennessee.
"We could see the impact (of St. Ambrose) when we lived in Nashville," Alana shared. "We hung out with SAU alumni there. When we met another person from SAU, we instantly had a connection."
After four years, the couple moved back to the Quad Cities with their daughter, Harper. And once again, they continued to show their love for their alma mater, but this time, in a much more permanent way. The Matthew F. and Alana J. Carroll Scholarship benefits a student studying accounting or communications at St. Ambrose. This endowed scholarship was established through their estate plan.
"We wanted to create opportunities for future generations to lead productive happy full lives. St. Ambrose is one of the big reasons we have that in our lives... its mission of fostering fully developed people is something that seems to be more important (to us) with every year," Matt said.
"One-time gifts are great, but something that was sustainable in the long term was appealing," Alana added. "The process was really easy and our lawyer did most the work. We told her we wanted a scholarship, and she drew up paperwork for us to sign."
The couple credits their knowledge and interest in an endowed scholarship to their attendance at the Bishop McMullen Legacy Circle Brunch (formerly the Heritage Brunch) when Matt was a graduate student. That year, a younger alumnus was recognized for creating a scholarship fund. When Matt and Alana created their estate, they felt it was the perfect time to act on that same idea.
"We feel so connected to this school, and we want to make sure those same opportunities are available to our kids and for every generation after that...St. Ambrose is a really special place for a lot of reasons."