Planned Giving Menu
Planned Giving

In Appreciation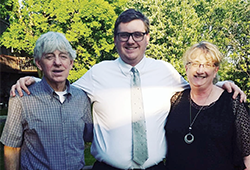 It was only three weeks after graduation when Jon Schroeder '17 visited the Alumni House on a very special mission.
"I love two things - my parents and St. Ambrose. This was a way to honor my parents and recognize how much they've sacrificed. It was also a way to thank St. Ambrose for how grateful I am to have been able to call this wonderful place home and where I am proud to call my alma mater. I'm grateful for both of them."
Jon's gratitude was realized through a multi-year pledge to the new Wellness and Recreation Center in honor of his parents, Jeff and Lynne Schroeder.
"I'm the youngest of three and grew up on a family farm outside of Milan. My dad has been a farmer his whole life, and my mom is a teacher. My parents have always believed and had confidence in me. I can't thank them enough for that. Whether it was helping me with 4H, FFA, or homework in high school and even in college! I know I can always call on them. I actually just called my mom last night.
Jeff and Lynne supported their son as he started his college career at St. Ambrose in 2013. Initially, he set his sights on a finance degree. With the assistance of his advisor, he graduated with a triple major in finance, business economics, and accounting. His impressive degree list was complemented by active leadership in the Student Government Association and the Republican Club, along with three internship experiences at Caterpillar and John Deere. His hard work paid off. Following graduation, he landed a job at Peakridge Partners as an accountant with a goal of becoming a partner.
Jon's pledge to the new facility also qualified him for the President's Club, a group of donors dedicated to supporting the mission and vision of St. Ambrose. Jon's dedication to supporting the next generation of Ambrosians is evident, and he hopes his peers will join him in supporting the cause.
"It starts small. No matter how much it is; it can help provide that same opportunity we are all fortunate to have and pass it down so others can have an even better experience. Giving to things like the Wellness Center can make their experience better. My donation allowed me to honor my parents in a visible way so they could see my appreciation, and it also allowed me to provide the opportunity for other students to enjoy the campus of St. Ambrose."
And as he transitions into his new role as alumnus, what advice would he give to the Class of 2021 as they start college this fall?
"Don't take it for granted. Enjoy each day you have on campus. You will meet some of the best people and make some of the greatest friends while you are here. Challenge yourself and go the extra mile to learn and grow with you professors. This is an amazing experience."