Planned Giving Menu
Planned Giving

Giving the Gift of Lifelong Learning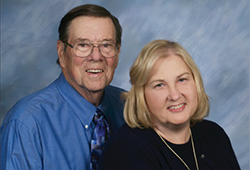 Jackie Christopher married her best friend. In fact, she and Gene Bleuer '60 were friends long before they married. And even though their time as husband and wife was short, Jackie is thankful they had the time together.
"He took care of me. He had retired early from International Harvester (IH) and I was working full time. He would take care of stuff around the house. He would cook me dinner and run the car to get an oil change. It was just wonderful to have someone like him."
After Gene's passing, Jackie began to research ways to honor Gene's memory. In the process of reviewing her trust, she learned about opportunities to include St. Ambrose, Gene's alma mater, in her plans and establish a scholarship in his name. In addition, she learned it was possible to begin funding the scholarship during her lifetime so a student could begin receiving the assistance immediately.
"I'm really glad I didn't wait. I'm getting to see the benefit of my gift right now. People don't think about that and don't realizing the satisfaction you get. By funding it immediately, I get to meet the people I am helping and see the difference this scholarship makes while I'm alive."
The annual Scholarship Luncheon provides donors like Jackie the opportunity to meet, network, and develop a relationship with the very students benefiting from their scholarships. One of the people Jackie is helping with the Gene Bleuer Scholarship is Quad City native Mallory Meyers. Mallory is a sophomore at St. Ambrose majoring in Industrial Engineering. Outside of her classwork, she is involved in many activities including Engineering Club, Society of Women Engineering (SWE) and Women in Science and Engineering (WISE). And Mallory is exactly the type of student Jackie wants to help.
"I wanted to help underrepresented populations get started in STEM fields. When I started my career at the Farmall Plant, IH, there were 400 men and me in management. Most of my career, I've worked in areas that are 85 percent men and 15 percent women. While things have improved tremendously, a lot of women don't get interested in the field early enough."
At this year's scholarship luncheon, Jackie and Mallory will have plenty to discuss. Mallory is in the work-study program at John Deere and hopes that will translate into a full time job once she finishes her degree. Her dream job is to create and build a company with her brother, also an engineer.
While the Scholarship Luncheon allows donors to see the impact of their gift, it also provides a way to educate students on philanthropy and its direct impact on their college experience.
"This scholarship has enabled me to lessen the financial burden of a college education. It offers me less stress and opens up my schedule for studying and getting involved," Mallory said.
Jackie funds the scholarship yearly on Gene's birthday. It's a way to still give him a birthday gift, she notes. And she's pretty sure it's a gift he would appreciate.
"When he came back from the war, he wanted to get a degree. He always said he got a great education at St. Ambrose. He was a hard worker with lots of determination, but a good education prepared him for that. The most important part about college is learning how to learn, because the rest of your life is learning. You have to be able to adapt and learn in new situations.
"St. Ambrose has been through tremendous growth. It is a college in the Quad Cities that has grown in a variety of fields. Through the shared vision of Dr. Rogalski and Sr. Joan, the university has continually offered students the opportunity to pursue fields that are in demand that result in good jobs. People don't realize there are top notch programs at St. Ambrose.
"In this day and age, I think anyone who has the ability to go to college should. From my time at Deere, I know that even today's factory jobs can require a two year college degree due to the complexity of the manufacturing equipment. I think it is our responsibility as people who've received college educations to help those who are striving for the same education today. It's my hope that those scholarship recipients will establish a scholarship in the future so we can keep passing it on."
A little more about Jackie & Gene
Jackie is a lifelong Quad City resident and University of Iowa graduate (undergraduate math major, MBA). She spent the majority of her career (40 years) at John Deere, serving in many roles including program manager in the IT department. Early in her career she worked at IH, where she met Gene. She was the first woman supervisor at Farmall and the third woman supervisor at John Deere Plow Planter Works.
Gene received his degree in math and physics from St. Ambrose in 1960 through the GI bill following his service in the Korean War, where he was a POW for 90 days. At this time, he was married with a young daughter, working full time and going to school full time. He later earned his Engineering degree at Purdue. When he retired, he was third in line at the Farmall Plant. Sadly, Gene passed away from a cerebral hemorrhage in June 2011.
A little more about Mallory
Mallory chose St. Ambrose due to its engineering program, proximity to home, and it's a family tradition. Her grandfather, father and uncles are all alumni. "Choosing St. Ambrose was a great decision for me. I love the personal attention with small class sizes and opportunities to volunteer and get involved." She says her commitment to various clubs and organizations has helped her learn time management and meet students with similar interests.