Planned Giving Menu
Planned Giving

A Rebel in Social Justice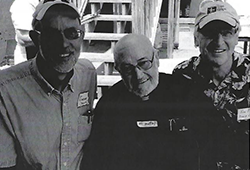 Msgr. Marvin Mottet '52, better known as Fr. Mottet, led by example. He was passionate about social justice and service to the poor, and he made it his life's mission to serve society's forgotten.
"From the time he was ordained, he was a rebel in social justice and he remained that way throughout his life," Jim Tiedje said. Tiedje was a close confidant of Fr. Mottet, a relationship that developed over many years. "He was instrumental in bringing the likes of Martin Luther King, Jr. and Mother Teresa to Davenport to receive the Pacem in Terris award, an award he himself received years later."
"My first encounter with Fr. Mottet was in my high school religion class at Assumption High School," Tiedje recalled. "He urged us then to care for the poor and work for the justice and mercy of all, although being in high school, I'm not sure how many of us paid attention."
After high school, Tiedje attended St. Ambrose College. He cites Mottet's influence as a factor in his decision to pursue a degree in social work. After graduation, Tiedje moved and lost touch with Fr. Mottet. But upon his return to the Quad City area, their paths crossed once again. This time, at Sacred Heart Cathedral. Tiedje became a member of the parish, and later served on the parish finance council, and Fr. Mottet was the pastor.
"In our committee meetings, he would always say, 'I was thinking we might?' He was always thinking of ways to connect people. He would suggest ways to grow our congregation, better our marriage preparation classes, and provide financial advice to parishioners."
Later, Tiedje became involved in another one of Fr. Mottet's passions, Café on Vine. This facility "provides a free lunchtime meal to the needy of the community 365 days each year." The program is operated by Thomas Merton House, Inc. Both Café on Vine and Thomas Merton House, Inc. were projects spearheaded by Fr. Mottet.
"It was hard to say no to Fr. Mottet because he did so much for others," Tiedje said. "Fr. [Mottet]'s work was never done. He always said, 'Get to work. We gotta keep this thing moving.'" Eventually, Jim assisted Fr. Mottet with his final plans and the creation of his estate. "[His estate] speaks of his life. He supported a handful of organizations that were important to him and his life's work. One of them was St. Ambrose University."
Fr. Mottet passed away on Sept. 16, 2016. "By the end, he was so tired," Tiedje recalled. "But he was tireless in his work. He was so humble, but he accomplished so many things." Today, Fr. Mottet's influence is still felt throughout Davenport. From Café on Vine to organizations like CASI (Center for Active Seniors, Inc.), Fr. Mottet's passion to serve others lives on. At St. Ambrose, his legacy continues through the Fr. Joseph E. Kokjohn Endowment for Catholic Peace and Justice. His estate was added to the Kokjohn Endowment, which focuses on topics such as teaching, research and activity in such areas as the early Church, ecumenical councils and 20th century figures and movements in nonviolence.
The endowment also provides for student scholarships. The Kokjohn Endowment Scholarship is awarded to a St. Ambrose student who demonstrates a commitment to justice and peace. Students who receive the award commit to participating in several justice and peace-related service projects and events throughout their time at SAU and give a presentation each May on how they have contributed to the university's vision of social justice and service. Through his life's work and his legacy gift, Fr. Mottet will continue to influence those committed to social justice for years to come.
Editor's Note:
Fr. Mottet's entire legacy could not be contained in this piece. If you'd like to learn more about his work, please read any of the following articles seen in The Catholic Messenger.
-
Obituary of Msgr. Marvin Mottet
-
Profile of Msgr. Mottet (in his own words)
-
Msgr. Mottet honored for his commitment to justice