Planned Giving Menu
Planned Giving

A Legacy in Memory of a Parent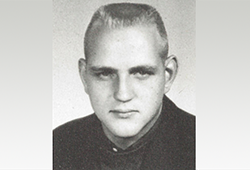 Dr. Patrick Callahan followed in his father's footsteps, and then created a way others could do the same.
His father, Dr. George Daniel Callahan, was a general practitioner in the Iowa City, Iowa area for 40 years. His patients, like Bill and Pat Sueppel, remember him as a great story teller who exuded confidence. He was also committed to helping all those in his community. The Sueppels remember him as a doctor who would help anyone, regardless of their ability to pay.
His dedication to people and his profession inspired his son Patrick to do the same. Patrick entered St. Ambrose College with the Class of 1965. He attended for two years before transferring. He received his degree from the University of Guadalajara (Mexico) in 1976. After receiving his degree, Dr. Patrick Callahan practiced family medicine, as well as served in Veterans' Affairs facilities.
Patrick also wanted to make it possible for others to follow in his father's footsteps. By naming St. Ambrose as the beneficiary of his IRA, he created a scholarship to pay tribute to his father and created a legacy for students to become future physicians, maybe even assisting someone who would eventually serve the Iowa City area like his father once did.
The George Daniel Callahan, M.D. Endowed Scholarship Fund provides funds to students intending to pursue a career in medicine. Preference may be given to students with unmet financial need and whose permanent residences are in or near Iowa City.
Patrick passed away in April 2017, but the legacy he created in memory of his father carries on.