Planned Giving Menu
Planned Giving

Continuing the Good Work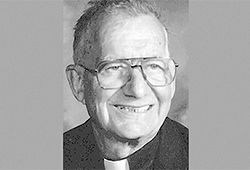 Described as a hard worker with a tremendous work ethic, Rev. Gerald Hoenig '48 dedicated his life to doing good work. And his work wasn't always easy. He served as a pastor of many parishes, as well as a naval chaplain in Pearl Harbor, HI and the chaplain at Iowa State Penitentiary in Fort Madison. For many, those assignments alone would have qualified him as a holy man. However, Rev. Hoenig didn't limit his good work to the tasks associated with his profession. Instead, he continued his generosity by buying houses in Ft. Madison, refurbishing them and offering newly released inmates the ability to secure housing for little or no rent. He did this so they would have a place to stay when they got a second chance at life. And aside from giving of his time and talents, he gave generously to the St. Ambrose Annual Fund and various campaign initiatives.
So when it was time to create his will, Rev. Hoenig chose to continue his work.
"He shared with me that he gave his life to the Catholic Church and what he gained in life could still work for the Catholic Church after he was gone," Atty. Robert Johnson, III shared. "The bulk of his estate supported the Catholic Church in one way or another. St. Ambrose was one entity that was chosen to continue his legacy."
St. Ambrose is honored to carry on Rev. Hoenig's legacy. Although final details of his estate's use at the university have not been finalized, by leaving an unrestricted bequest to St. Ambrose there is no doubt it will allow future generations of Ambrosians to study in an environment committed to academic excellence, the liberal arts, social justice and service. Rev. Hoenig will always be remembered as a generous man whose work as a philanthropist continued to enrich the lives of those who never got the chance to know him.