Planned Giving Menu
Planned Giving

Their Legacy Lives On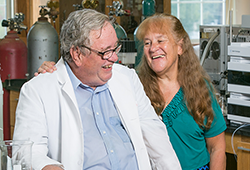 Chances are if you were a student at St. Ambrose in the past 40 years, you probably knew someone who had a class with Dr. Serianz, either one of them. Dr. Art Serianz has been part of the Chemistry department for 43 years, and Dr. Rachel Serianz joined him on campus as part of the Education department faculty 13 years later.
After decades of dedicated service, the Serianzs are embarking on a new journey this summer. They'll begin a much deserved retirement, although both have plans to continue their service to the university in some way, either through volunteer efforts, committee work, or teaching a class here or there. Despite a decrease in the time they spend on campus, their impact at St. Ambrose will not be diminished.
In their final year as full time faculty, the couple found time to establish a scholarship…actually two scholarships.
The Art and Rachel Serianz Endowed Scholarship was established to honor their combined 73 years of service to St. Ambrose and to support students from their respective areas. The Chemistry scholarship will be awarded to a rising sophomore who has shown a passion and dedication in the classroom. A rising junior majoring in elementary education will be eligible for the Education scholarship. Preferably, this student will have an endorsement in science or STEM.
In order to develop the scholarship, Art and Rachel met with the university's Advancement staff. The couple brought ideas regarding the legacy they wanted, and through meetings and discussions, the Serianzs were able to establish a legacy using the charitable IRA rollover gift plan, that is not only impactful to the university, but meaningful to them.
By establishing a scholarship, the couple will be able to meet, and potentially mentor, their scholarship recipients. The opportunity to meet named scholarship recipients is made possible through the annual Scholarship Luncheon held each April.
Alumni are invited to contribute toward the Serianz scholarship to honor Art and Rachel for their dedicated service to the university. Additional gifts to the scholarship will increase the principal balance of the scholarship, allowing for increased scholarship awards to the student recipients or will be used to endow an annual lecture exploring the complementary nature of faith and science.