Planned Giving Menu
Planned Giving

A Gift from the Past Carries Well into the Future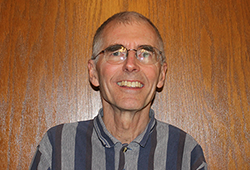 Ted Woodruff's career at St. Ambrose spans 23 years. His tenure seems quite remarkable considering the former New Yorker never expected to end up in the Midwest and didn't plan to become a teacher.
"I got my first teaching job with plans to begin MBA courses shortly after. I thought I'd follow in my father's footsteps and end up on Wall Street, but I really enjoyed teaching," Ted recalled.
Ted taught in Massachusetts and New York. He was at St. Bonaventure when enrollment challenges caused the school to close the economics department. As he and his fellow co-workers looked for new opportunities, one mentioned a job at St. Ambrose in Iowa. Phone and in-person interviews followed, which Ted describes as the "best interview of my life."
"Most of the places I interviewed acted as if they would be doing me a favor by hiring me. St. Ambrose made me feel like I'd be doing them a favor."
And as they say, the rest is history. Ted's been a familiar face in the St. Ambrose Economics department for over two decades, but one of his students from New York never forgot about him. Cliff, a student from St. Bonaventure, wanted to honor Ted and his work. He set up a scholarship at St. Ambrose to provide financial support to an Economics major completing an internship. Ted noted many of the internships his students take are either unpaid or include a minimal stipend, which can cause an undue financial burden for some.
After Ted learned of Cliff's generous gift, he began matching the yearly contribution.
"Cliff's donation would fund the student scholarship, and my match would incrementally build the fund with the goal of endowing it (which occurs at $50,000). After 20 years, we made great progress, but we weren't quite there. With my retirement on the horizon, I wanted to ensure this became a permanent scholarship. I reviewed my portfolio and found I could use some of my mutual funds to endow the scholarship and avoid capital gains taxes."
Ted acknowledged that "no one can predict the future," so he included some language to ensure the fund would continue to provide support, even in the event a student could not be found who fulfilled the initial scholarship requirements. With guidance from Cliff, the scholarship can be awarded to a student studying another major who has secured an internship. But first, he has to tell Cliff the scholarship is fully endowed.
"I didn't want to tell him about the scholarship or that I was retiring until the paperwork was finalized," Ted confessed.
With the scholarship agreement completed and classes over, Ted begins his retirement. He'll leave campus with many fond memories.
"St. Ambrose has been very good to me. My first office was in the basement of Davis Hall, and I met so many great people there. I've developed wonderful relationships with some dedicated and loving people. President Emeritus Ed Rogalski and I still meet a few times each year. At what other school are you able to have that type of a relationship with the president? I've never been as impressed with a college president as I am with him. His warmth and sincerity are unmatched. It's people like him that make it hard for me to say good-bye now."
He'll also leave knowing that he will continue to make an impact at St. Ambrose.
"The satisfaction you get from donating is immeasurable compared to spending money on yourself… I just don't know that I could buy anything that would make me feel the same."