Planned Giving Menu
Planned Giving

Bonnie McFarlin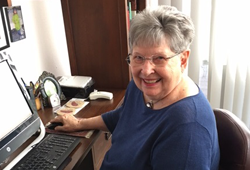 Lavonne Grace McFarlin, known to her friends as "Bonnie", was a friendly, outgoing, energetic and Christian woman who loved life and learning. Bonnie loved to make new friends wherever she went.
Bonnie and her husband Dale moved to Davenport and purchased a six-plex near Vander Veer Park, a few blocks from St. Ambrose. They walked around the park and St. Ambrose campus regularly, and were taken by friendliness of the students and staff. Bonnie and her husband were not blessed with children of their own, and they enjoyed getting to know the students and hearing about their education.
Thus began a forty year relationship with the university. The McFarlins gifted farm property in western Iowa to St. Ambrose in exchange for a charitable gift annuity, providing them a tax deduction and a lifetime stream of annual income. The arrangement worked well for them, as years later when they left Davenport, they created another gift annuity by gifting their six-plex to SAU.
Nurturing their love of travel, Bonnie and Dale drove by car, took their motor home or flew in their light airplane all over the U.S. and Canada. Some of the locations became regular stops where seasonal friendships were created. After Dale's death, Bonnie moved to Georgetown, Texas and started another chapter of her life. Continuing her love of travel, Bonnie joined travel groups and took many trips to Europe, Africa, Mexico, South America, Asia and Australia. She often shared stories of her observations of wild animal migrations on the Serengeti plains and adventures in the land of the Dalai Lama, Tibet. She created many treasured scrapbooks of her unforgettable journeys.
As they began to accumulate wealth and Dale's health issues arose, Bonnie and Dale discussed what to do with their estate. Both Bonnie and Dale felt that the ability to achieve a college education was an important part of everyone's future. They felt that St. Ambrose embodied the educational spirit, mission and drive that best matched their ideals.
Thinking of their legacy and impact, an endowed scholarship was a logical step, and the "Dale and Lavonne 'Bonnie' McFarlin Endowed Scholarship Fund" was created. Bonnie worked with her attorney, financial advisor and trustee to complete the estate plan for the scholarship. Part of the plan involved naming St. Ambrose University as the beneficiary of three commercial gift annuities and her fixed income assets, in addition to the charitable gift annuities previously established with SAU.
Bonnie McFarlin passed away in her sleep on Thursday, October 25, 2018 at the age of 92. She was generous in heart and spirit. A world traveler who appreciated different cultures and peoples, she never lost her humble Iowa roots. While she did not attend college herself, she was a lifelong learner who gave St. Ambrose students the greatest gift of all - access to an education. She will be sorely missed.