Planned Giving Menu
Planned Giving

An Ambrosian Builds on his Family Legacy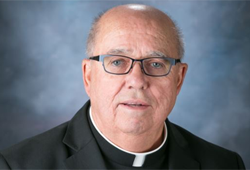 Fr. Robert McAleer is keenly aware of his start in life and his parent's devotion to family. "We came to this place, none of us prepared, but we all made it through.
"My parents never got to high school," said Fr. McAleer. "They were married in the depression and struggled, like so many. After financially failing due to conditions for three years, they were offered the opportunity to purchase a farm from the Prudential Insurance Company, that owned many farms in Iowa at that time. Leaving their families, they took a train to their new home in Charlotte, where their children were raised. Supporting six children and helping other family members as well, they made sure we got the best education we could."
Attending a small catholic school did not prepare the Fr. McAleer for the college experience. "We had a very limited education - I remember a biology book but I never took a real science class. My first semester at St. Ambrose I had a four hour science course! But in spite of that, I found that the faculty had enough patience to help me through. I could have just gone back to the farm, but we all found the support to stay."
As with many who attend St. Ambrose, Fr. McAleer's plans changed when he got to college. "I went to St. Ambrose wanting to be a teacher and a coach. But when I came home after than first semester our parish priest asked why I didn't make something of myself and go to Seminary. So I moved from Davis Hall to Ambrose Hall and was on my way."
"We were encouraged in the seminary to learn beyond philosophy and latin," continued Fr. McAleer, "to take some other classes to have a skill to teach. Well I took some Spanish and my junior year I got a message from Bishop Hayes to get myself set to go to Mexico over the summer - I ended up with two semesters of Spanish that summer. As it turned out, that was the time of the Cuban Embargo, and the teacher couldn't get back into the country. So there I was, teaching Freshman Spanish as a senior!"
Fr. McAleer graduated from St. Ambrose in 1967, and received his Master's from Notre Dame in 1971, the same day he was ordained. "My St. Ambrose education gave me a foundation far beyond the priesthood. My liberal arts education gave me the people skills to be a priest who went to the places I was needed. But none of that was possible without my parents and teachers at St. Ambrose."
Most of his career was spent serving several parishes in southeast Iowa (West Point, Burlington, Fort Madison and Harper/Clear Creek Parishes and Schools), and 15 years at St. John Vianney Parish in Bettendorf, Iowa. Fr. McAleer retired in 2014, after 43 years of dedicated service to the Church. The following year he joined the SAU Board of Trustees.
When asked what he's learned with a new view of St. Ambrose, Fr. McAleer replied "I can see clearly how central that Chapel is to the campus today, and that peace and justice is the undercurrent of everything we do. St. Ambrose gives me confidence and reaffirms what I received many years ago. It continues to earn our loyalty."
When Fr. McAleer celebrated mass at his 40th reunion Homecoming, he spoke of the importance of the school to his classmates. "Many of us went on to other schools, where they taught us the answers. At St. Ambrose we learned how to think."
"The things we all learned in Ambrose Hall will never get away from us. It's what makes us the people we are, and it changed my life. Josie and I want to give that opportunity to others like us, who would not have had the chance. All of us who graduated went on to use the skills learned at St. Ambrose - teachers, nurses, a parole officer - to be successful and to contribute to our community. The scholarship was designed by the two of us as a way to encourage a student, not the top scholar but one improving, maybe from a smaller school, to get a start. That's what Ambrose offered both of us, and we are forever grateful."