Planned Giving Menu
Planned Giving

John Otto Wallin '68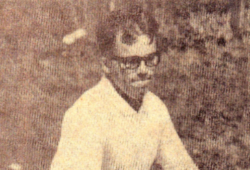 Tennis brought him to St. Ambrose, but it was not a given. John Otto Wallin grew up playing tennis in Dixon, Illinois where the area high schools had strong tennis programs and were frequently recruited to come play at St. Ambrose. When Otto came to campus in the fall of 1963, he had to beat the number one ranked player on the team in order to earn his scholarship. John won that match, and every other match he played his freshman year, as well as his junior year. "We had great teams and we'd beat schools like Notre Dame and Marquette. Ed Scheck was our coach and we qualified for state four years in a row!"
In addition to his tennis play, Wallin had other firsts at St. Ambrose. He was the first person to graduate with a major in German. "Dr. Prudent Coussens was my professor - he was a very special person, very supportive - he even came to watch me play tennis a few times," said Wallin. "In fact, he and I took Russian together, and we'd compete to see who did better on a test. So I ended up with a major in German and minored in Russian."
After a brief stint as a tennis pro after graduating, John put his language skills to work teaching German to high school students. "Having such great professors, I really took to teaching, and doing what I could to prepare them for college." Wallin also learned that when school districts need to make cuts, foreign languages fall victim. "My liberal arts education saved me in that I still qualified for many teaching positions beyond languages."
Eventually Wallin worked for the State of Illinois as a correctional counselor and later an employment counselor. He approached both of these positions as a teacher, which he found rewarding. "I think that all goes back to my time at St. Ambrose and the coaches and faculty I had there," said Wallin.
Re-engaging with his teammates at his 50th reunion this fall brought Otto's fond memories back to life. "Having the chance to circle back with teammates and classmates was so special, and the whole experience reminded me of how much St. Ambrose gave me."
Otto reached out to the SAU Advancement office with an inquiry about making a gift through his IRA, using the charitable rollover gift plan. "It was easy, Sally Crino helped me out with language to share with my IRA administrator and information on the IRA rollover. You get benefits by saving on income taxes, but you provide benefits to others as well. In addition, a gift from your IRA helps to fulfill your annual Required Minimum Distribution (RMD)."
"I was given such an opportunity when I was recruited by St. Ambrose, and I got so much more than the chance to play tennis. All of my experiences at St. Ambrose guided me in life - provided me with skills, a career and wonderful memories. If I can help provide even one student with the same experience, then that makes it worthwhile and meaningful to me."