Planned Giving Menu
Planned Giving

Sandra Blom '20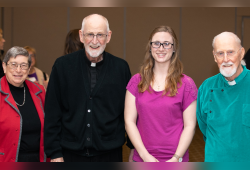 Sandra Blom is a junior from Oskaloosa, Iowa. A member of St. Mary's Parish, she found out that there was a scholarship for parish members to attend St. Ambrose. "I thought it was worth checking out, I visited the campus and saw the cadaver lab!" Sandra knew she wanted to focus on pre-med studies, but she also wanted to go to a small school. "I didn't want to be one of hundreds of students in a lecture hall - I wanted to know my professors and for them to know me." St. Ambrose had that small town feel, but also had state of the art health science facilities that would help prepare her for graduate school.
St. Ambrose had another connection to Sandra's youth in Oskaloosa - Fr. Tom Spiegel '63, her parish priest who oversaw her confirmation in 1 st grade. With his brothers Msgr. Robert '62 and Fr. John '69 Spiegel, all St. Ambrose graduates, the Spiegels have established multiple scholarships for students. "We learned so much when we were there, and that experience on campus taught us that faith is a tremendous gift," said Fr. Tom. "When you can graduate with a degree and deep faith, you can do so much for the lives of others."
As Sandra was working towards her degree, one of the many prerequisite classes she enrolled in was Anatomy, and this is where she started thinking differently about where she was going. "Little did I know that in the anatomy lab I would find my true interest in teaching, and have my professional path change to a pre-graduate school track, to someday teach anatomy and physiology to students just like me"
"During this time of switching paths, my biology professors and my advisor quickly started helping me navigate the ways of graduate school preparation." Continued Sandra. "This is just one reason I love St. Ambrose so much. Here, my professors know my name, they know who I am, and they are willing to help me."
Sandra was chosen to speak at the Scholarship Luncheon, and when she arrived at the head table, she was delighted to see Msgr. Bob and Fr. Tom Spiegel. While this was unexpected, Sandra had already acknowledged them in her speech. "I would like to thank every one of you who has had any part in making these scholarships available for students, especially Fr. Tom and Msgr. Bob Spiegel. You are making an amazing difference. Thank you."
Said Fr. Tom of the luncheon, "this was a just a thrill to see her share her thoughts so passionately and eloquently. It was a wonderful opportunity to come full circle in the first part of her journey. To know that she will be teaching and preparing future doctors to help others warms my heart."
Later that afternoon Sandra called her mother to tell her about the luncheon and the Spiegel's being there. Unbeknownst to her, Fr. Tom had already called - delighted to report to her mother how well she had done. Small town habits never die!