Planned Giving Menu
Planned Giving

Spring Break Means Service for Some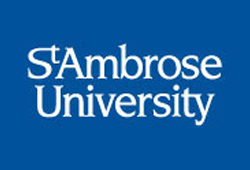 It's a term synonymous with beaches, relaxation, and carefree days. But for some St. Ambrose students, Spring Break means packing a bag to help others in need. And just like their counterparts who might be partying during the break, students have to choose between a number of destinations.
Cass Community – Detroit, MI - 6 students going
Detroit is a diverse and dynamic city, but is in more need than ever. At Cass Community, students take part in several ministries, such as food preparation in a homeless shelter, a vocational recycling center, and a center for people with special needs. The trip provides students with a variety of tasks in an inner-city.
Pine Ridge Indian Reservation – East Shannon, SD - 8 students going
The Pine Ridge Reservation is home to the Ogala Lakota. It is the eighth-largest reservation in the U.S., and it is also one of the poorest. Students will work together to build ramps for people with disabilities, while experiencing Native American culture.
Appalachain Catholic Worker – Spencer, WV - 6 students going
The most non-traditional of all the service trips offered, students will learn about the region's poverty, struggles, wealth, and beauty. In addition, they will learn about mountaintop coal removal and fracking and its effects on the environment. Those passionate about sustainability and environmental issues will find this to be a reflective week.
Hubbard House/Sr. Thea Bowman Catholic School – East St. Louis, IL - 4 students going
Described as "the most distressed small city in America," nearly a third of the families living in East St. Louis live on less than $7,500 a year. Students will work in a variety of ministries that benefit children.
All four trips are organized the Campus Ministry at St. Amborse.
"Service trip sites are selected based on areas of greatest need, timeliness, and student input," Director of Co-Curricular Service and Justice Ministry Kelly Bush said. "At the end of last year, we conducted a student survey of places students would most like to perform service. Pine Ridge Indian Reservation topped that list. We chose the Appalachian Catholic Worker Farm in West Virginia because the environmental education at the site made it a perfect fit with our Sustainability theme this year. The bankruptcy of the city of Detroit, as well as the challenges in poverty the city is facing, were prominent in the news this past year, so we made a decision to return to Detroit. And of course, we have had a long history with Sr. Thea Bowman School in East St. Louis, a city with the highest crime rate in the United States."
In addition, the SAU Habitat for Humanity group will also be using Spring Break to make a difference in two other communities.
Habitat for Humanity - Kalispell, MT & Mobile, AL – 12 students going to each
The SAU Habitat group applied to assist at a variety of places during Spring Break 2014 and these two sites were assigned. During the week, students will do a variety of tasks at the build site, as well as work at the ReStore, a resale shop for building materials and home items. The proceeds benefit Habitat for Humanity projects. The largest benefit to this trip is getting to know the family that will benefit from the home, as well as other partner families.
"The Collegiate Challenge Spring Break Service Trip is not only a wonderful opportunity for students to experience a fun spring break trip with friends. This trip provides students with a purpose. Past participants always speak about the wonderful relationships they formed and the rewarding feelings they ended the trip with." – SAU Habitat for Humanity President Megan Van Hoorn