Planned Giving Menu
Planned Giving

Let's Raise a Glass!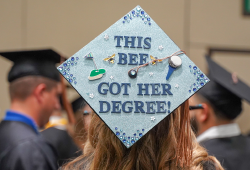 The St. Ambrose University Wine Festival is a community-driven volunteer event that raises dollars and awareness for the needs of current and future students. There are three different events held in the spring - Wine at the Warehouse, the Wine Festival Preview Dinner and the Wine Festival Wine Tasting.
The brain-child of retired Vice President of Advancement Edward Littig, the inaugural event held in 2002 raised $33,393 for scholarships. Now a signature fundraising event for the University, the 2018 event raised a total of $126,854. In the past 17 years, thanks to the hard work of a volunteer committee, $1,268,627 had been raised, providing access to a higher education to countless students.
The Wine Festival is a community, volunteer driven event. Supporters in the community come together as a committee each year to plan all three events - volunteering their time, talent, and treasure to raise money for student scholarships at St. Ambrose. The committee members devote countless hours promoting the events, planning the logistics, and garnering support from the greater community. These events would not be possible without them.
The committee is coordinated by Executive Director of Advancement Anne Gannaway. "Wine Festival supporters are an important piece of our students' education," said Gannaway. "Each time you attend a Wine Festival event, those dollars go directly to assist our students through scholarships. There are many ways to participate from being an event sponsor, auction donor, table sponsor, and/or ticket holder."
The three events offer a variety of way to enjoy and learn more about wine. Wine at the Warehouse is a casual tasting in the Dimitri Wine & Spirits warehouse. Dimitri Papageorgio and his staff offer a sampling of their favorite wines with delicacies from several Quad City restaurants. The Preview Dinner is an elegant sit down dinner with select wines paired with menu items prepared by the St. Ambrose University culinary team. This event also includes silent and live auctions. The final event of the season is the Wine Tasting, held outside on the SAU campus with a spectacular assortment of 200 wines from around the world and culinary highlights from a number of Quad Cities restaurants.
St. Ambrose University is dedicated to providing a quality, affordable education. That's why nearly 30 percent of the university's operating budget is dedicated to scholarships and other forms of financial assistance. Ninety-nine percent of St. Ambrose students qualify for financial aid - that adds up to more than $27 million awarded each year from institutional and private support! Many of our students benefit from the more than $1 million that has been raised through the Wine Festival since its inception.
"The St. Ambrose University Wine Festival has become a Quad Cities tradition, bringing many to the campus that might not otherwise see all that's going on here," said James Stangle, Vice President for Advancement. "It's a great spotlight on our campus growth and vitality, in addition to being a dependable source of philanthropic support to provide student scholarships."
This month we raise a glass to our new graduates, and all who work to make the Wine Festival happen.