Planned Giving Menu
Planned Giving

Leaving a Legacy in Nursing - Dr. Dolores Hilden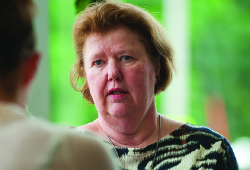 After 50 years of teaching, Dr. Dolores Hilden's name is synonymous with the St. Ambrose Nursing Program she founded in 1999.
"Dolores Hilden's tireless efforts to establish a quality, accredited nursing program at St. Ambrose created opportunities for hundreds of students to become bachelor-prepared nurses," said Kathy Andresen, Chair of the St. Ambrose University Department of Nursing. "Dolores Hilden was an exceptional visionary, working to grow the current program that has graduated hundreds of nursing professionals and continues to demonstrate a commitment to developing nurses who are ready to promote the health and wellness of our communities."
Dolores was passionate about nursing and the nursing students. "What was important to me then, and will always be, is the reality that many families today cannot afford the cost of higher education," said Hilden. "What's important for us all to remember is we are all direct recipients to the benefits of higher education - be it our own or somebody else's. This is particularly true in the health sciences."
Keenly aware of the demands of a nursing education, she hated seeing students burdened with part or full-time jobs while enrolled to meet the financial demands of their degree. "Learning a professional discipline, such as nursing is very labor intensive. Asking our students to go through our programs and carry jobs in order to meet their financial needs is just too much. Those of us who can lessen that burden to see that our students are not overworked when they need to study will provide a great pay back to our profession."
A champion of the nursing profession, Dr. Hilden credits the faculty who worked with her to develop the program. "We had a core group of people with the same core values of what a nursing program should be. More importantly, they had a vision to see what was needed to achieve that goal," she said. "They had the heart and soul as well as the head for it, and together we set the expectation of what our program would be."
It is fitting that the conclusion of the effort to reach the $50,000 endowment goal for the scholarship was led by current members of the nursing faculty. "Dr. Hilden was passionate about nursing faculty. She served as a mentor for me and provided guidance during her time as Chair of the department to many nursing faculty" said former colleague Juleann Miller. "I believe her biggest passion near the end of her career in academia however was the students," Miller continued. "She worked many long hours tirelessly to make a difference in the nursing curriculum and department as a whole. The nursing scholarship named for Dr. Hilden makes so much sense. This is a way she can continue supporting nursing students to meet their dream of being a caring, intelligent and compassionate provider of care."
Sharing her passion and knowledge with faculty and students will be her lasting legacy. "How do you produce a good beginning practitioner? Show them what they can learn and why they need to learn it. Share the volumes of knowledge nurses must have about people, their profession, the health system and science."
And that, quite simply, is what Dolores Hilden did.