Planned Giving Menu
Planned Giving

Mitchelle Greenlee '94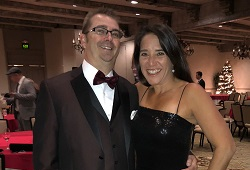 Mitchelle Greenlee '94
Mitchelle Greenlee loved college so much, she never left.
As a senior at Hoover High School in Des Moines, Mitchelle Yadira Ballard had little expectation of attending college. No one in her family had, and it wasn't something she had access to. Then she met someone who would change her life.
"James Davis was a St. Ambrose College Recruiter," said Mitchelle. "He was visiting the counseling office where I worked, told me about SAU, gave me a brochure, arranged for a campus visit for myself and my family, told us about the Freeman Pollard Scholarship, and will forever be my hero and angel."
Mitchelle immersed herself in her new world, actively involved in many clubs and organizations, including Student Government and Alumni Association. She was the founder of the first Hispanic CREW (Hispanics for Culture, Rights, Education and Wisdom). "I sent a note to the 30 Latin identified students on campus to join a club," said Mitchelle. Her energy and leadership was noticed by Dean of Students Stan Kabat, who suggested she apply to be an RA. "I had a R.A. who was a very positive influence on me, and showed me how I could lead students," said Greenlee. "I wanted to do the same. And that was before I learned about the free room and board!"
"My senior year, I was RA for the Town Houses, and lived with the same girls I roomed with my freshman year in Cosgrove. These are friendships for life. I think this is true for so many of us - at St. Ambrose you make friendships that last forever."
When she found out that you can actually build a career in Residence Life, she was astounded. "Here was this thing that I loved, and I was good at, and I can keep doing this and get paid for it? It was all so foreign to me, but it gave me everything I could have dreamed for."
In addition to her career, Res Life introduced Mitchelle to her husband Brian Greenlee '94 - at RA camp. Together they have moved with her career in Kansas, Arizona and finally in California. An Exercise Science major, Brian works on the American Council on Exercise, and they have a daughter Isabella who will start college this fall at the University of Iowa.
"We joined the President's Club right out of grad school, because we both knew how much St. Ambrose had done for us," said Mitchelle. "We stopped giving when our daughter was born but stayed engaged as much as we could, hosting Bee Happy Hours, going to the golf tournament in Palm Springs and other alumni events."
A recent trip to Southern California brought St. Ambrose to their doorstep again with a visit from president of the University Sister Joan and Associate VP of Advancement and Legacy Giving Sally Crino.
"I got so much assistance getting to and through college," said Mitchelle. "Many people helped me along the way, giving me guidance and direction. But none of that would have been possible with the financial assistance. The timing of their visit, especially as Isabella is about to enter college, made me think a lot about this."
Brian and Mitchelle joined the President's Club with a gift to the Freeman Pollard Endowed Minority Scholarship. "That scholarship allowed me to get to St. Ambrose, to meet Brian and find my career," said Mitchelle. "We want to do the same for others, to give them the opportunity to have s St. Ambrose education, and find their talent and calling."
"By giving to an endowed fund, you know that your gift is going to help grow something much bigger. I've seen what that can do for health and vitality of the students and the University."