Planned Giving Menu
Planned Giving

Physical Therapy Department Endowed Scholarship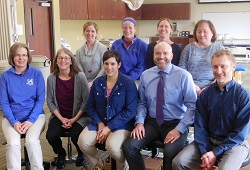 Evidence-based Philanthropy
The Physical Therapy Department Endowed Scholarship was established in the fall of 2017 to benefit Doctor of Physical Therapy students. The first dedicated scholarship of the Doctor of Physical Therapy program, this merit-based scholarship will be awarded annually to students based on attributes such as leadership, service, and clinical performance.
It is fitting that this scholarship originated with our Physical Therapy (PT) faculty - the department is known not only for their academic rigor, but for their dedication and collaborative nature as well. They are keenly aware of the cost of higher education and the weight of student debt when starting out as a new graduate.
The department has structured the Doctor of Physical Therapy (DPT) program to address affordability for our students. They offer accelerated programs granting early placement to qualified high school and undergraduate students into the Doctorate program. Additionally, the DPT is attainable in two and a half years, rather than the traditional three-year programs at other institutions.
"These aspects of the program allow our students to enter the work-place sooner," said Dr. Michael Puthoff, Professor and former Director of the Physical Therapy program. "Even with these efforts, we know the cost of a DPT is a lot to take on. As faculty, we decided to create this scholarship to support our students through their education."
The plan was to raise funds from faculty members and then approach PT alumni for gifts to support their program. In the meantime, Dr. Puthoff was named Dean of Graduate studies, and stepped down as Director of the department. His successor is Dr. Priscilla Weaver.
"What a time to join this department - this effort is a perfect example of the dedication and team approach that this program is known for," said Dr. Weaver, who joined St. Ambrose in the summer of 2018. "Things like this simply do not happen at many universities of our size."
The balance of the scholarship fund grew quite quickly with multi-year commitments from several long time faculty members. In the end every member of the faculty contributed to this fundraising effort, as well as several of the department's retired faculty.
"We focus our teaching on evidence-based practice," said Dr. Weaver. "This scholarship is clear evidence of our faculty's involvement in and commitment to our students' education. I could not be more proud of what they have accomplished."
By the end of 2018 85% of the funds needed to reach endowed status ($50,000) had been raised from the faculty and staff in the department. The next step was to send a letter from Dr. Weaver to the PT alumni asking for their support.
"We have 800 alumni of this wonderful program who are dedicated and generous professionals," wrote Weaver. "You know best how the SAU Physical Therapy program helped prepare you for your career - interprofessional opportunities, clinical education experiences, classroom learning, residency program, mentorship, friendships, and more. I hope that you will consider supporting this initiative in any way you can, to assist future Ambrosians to achieve their career aspirations."
And indeed they did. By the end of the academic year the Physical Therapy Department Endowed Scholarship was fully funded and will soon be providing assistance to students in the program. Fund raising efforts will continue through outreach to alumni and supporters of the program, with a long term goal of funding multiple students every year.
Legacy Giving is a broad term and can be achieved in many ways. By establishing this endowed scholarship fund, the faculty of the DPT program and their alumni will to continue to enrich the lives of others through their profession and philanthropy, for years to come.