Planned Giving Menu
Planned Giving

Leo Kilfoy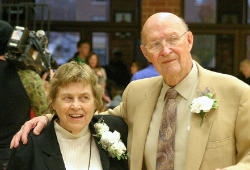 Denny Geraghty '69 can't imagine what his life would have been like if he had not attended St. Ambrose and met Coach Leo Kilfoy '51, PhD.
"He touched a lot of lives like mine. He took me aside and guided me, and he straightened me out," Geraghty said.
Leo Kilfoy was a consistent presence at St. Ambrose from the time he arrived to pursue a degree in teacher education and play football until his death in August 2018. He joined the St. Ambrose faculty in 1954 and held numerous positions through his retirement in 2002. Kilfoy was athletics director, director of recreation and intramurals and chairman of the Physical Education Department. He was a head coach in football, basketball, tennis and track, and an assistant coach in each of those sports as well. He also carried a full teaching load much of his career.
The criteria for a newly established scholarship in the revered coach's honor illustrates how important it is to the Kilfoy family to continue the impact that Coach Kilfoy had on his student-athletes. The Leo T. and Shirley M. Kilfoy Endowed Scholarship will be awarded to a transfer athlete in football or men's or women's basketball who is seeking a second chance, with unmet financial need.
When Geraghty heard about the scholarship fund, he knew he would support it.
"I was a New York kid from Staten Island," Geraghty said. "I had all the answers and knew I was going to be a professional basketball player. But before he let me know that I was too small and too slow, he gave me the foundation I needed to take a different path."
Geraghty almost missed the opportunity, choosing first to attend a college in Texas. When he knew he'd made the wrong choice, he reached out to Coach Kilfoy to see if his St. Ambrose offer still was open. It was, but Geraghty lacked funds to get from Texas to Iowa.
"Well, the next day he wired me money, and, knowing him, I'm pretty sure it came out of his own pocket," he said of Kilfoy. "By the time I got there he had lined up my classes making sure I could get right to work to make the most out of my three years at St. Ambrose."
And that he did. A physical education major with an English minor (at Coach Kilfoy's insistence) Denny coached basketball and taught at the high school level in Iowa until retiring from a Hall-of-Fame career after the 2017-18 season.
He won 500 games in 39 seasons at numerous schools, including Tipton, Dubuque Hempstead, Creston, Parkersburg, Preston, West Delaware, and Western Dubuque.
As a coach, Geraghty followed Kilfoy's lead. "It was more than the X's and O's - I tried to treat my players like he did," said Geraghty. "It was much more important to him for us to be good people and students than to be good basketball players. Coach helped me use basketball to do something good."
The Kilfoy Scholarship brings everything full circle for Geraghty, who was proud to speak at the November 2014 ceremony naming the Leo Kilfoy Court in Lee Lohman Arena.
"I'm the poster boy for the Kilfoy Scholarship," he said. "This could be directed towards the fastest, the strongest and the winningest high school athletes, to help bring championships to St. Ambrose. But for all his success, that's not what was important to Leo. It's the second chance that's important, and to me, as an alum, that's what St. Ambrose is all about.
"That's why I'm supporting this scholarship. I hope everyone who's played for St. Ambrose makes a gift as well."