Planned Giving Menu
Planned Giving

Evan's Dream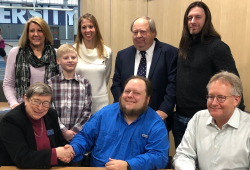 Andrew Hosmanek met his best friend Evan Gettert '02 during their junior year at Davenport West High School.
"Evan was the funniest, smartest person I ever knew, and the life of every party," said Hosmanek. "He took a genuine interest in each person he met. All kinds of people were drawn to Evan because of his energy, smile and kind manner. He helped people who were less fortunate ... and lived every minute of every day to the fullest."
Gettert was also an entrepreneur from an early age and ran three businesses during college-at the same time. He completed his degree in finance at St. Ambrose, where he also played varsity soccer. He continued his entrepreneurship, owning and operating a variety of businesses in the Quad Cities and working in finance in Chicago, Ill.
In June 2005, at the age of 26, Gettert passed away after a courageous fight with a rare form of brain cancer.
Eventually, Hosmanek and members of Gettert's family founded Evan's Dream, an organization to memorialize him, in part, by providing scholarships to college students in the State of Iowa, and funding and support for brain cancer research.
"It was a way to channel our grief into something positive, and to stay together as family and friends to do something he would be proud of."
In 2013, an annual scholarship was established to provide financial assistance to a St. Ambrose student who is studying business and/or has a strong interest in entrepreneurship, is running a business, or intends to start one.
But things did not stop there. "As time went on, people continued to donate," said Hosmanek. "They celebrated Evan's life through yearly birthday gatherings, poker games, meetings of friends, and online. And this got me thinking about the future."
Hosmanek inquired about an endowed scholarship at St. Ambrose. "This is something that we can all be proud of, every year, as a wonderful SAU student recipient gets a helping hand through college, and on to a bright future."
And the Challenge was issued. Evan's Dream had $35,000 saved, and last year a challenge was issued to Evan's friends and family to raise an additional $15,000 to meet the $50,000 threshold for an endowed scholarship.
And they did it.
On February 17, 2020, Evan's birthday, Andy Hosmanek and members of Evan's family had lunch with University President Sister Joan Lescinski, Vice President of Advancement Jim Stangle '82 and Associate Vice President Sally Crino to sign the scholarship agreement to establish the Evan Gettert '02 Entrepreneurial Endowed Scholarship. The scholarship will provide assistance to a student in the College of Business or who has a strong interest in entrepreneurship.
"Evan's name and legacy have become a permanent part of his alma mater. Every scholarship event will feature his name and our organization. Every year, one or more hardworking entrepreneurial students will receive a major scholarship in his name, so that they can study hard, and one day hopefully pay it forward."


"He lives on in all of us, and his life is an example of how one should live," he said. "You always hear people say that those with a terminal illness learn to 'live every day to the fullest.' Well, Evan did that long before he was sick. And Evan always wanted us to be happy. That's his legacy."