The Morrissey Legacy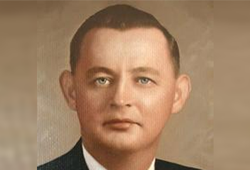 William Morrissey '81 is the proud son of Joseph Morrissey '51. Both shared a love of St. Ambrose. Bill knew that Joe had intended to include St. Ambrose University in his will because "he wanted to keep St. Ambrose going." Bill saw to it that that promise was kept.
Joe was the 4th of 13 children on a family farm near Amboy, Illinois. Joe grew up a resilient and entrepreneurial young man during the Great Depression. Although the family had little, they were rich in faith and love. Joe learned early on the discipline of milking cows at 5 a.m. every day, bailing hay, feeding pigs and chickens, living a farm boy's life. Later he scrapped metal and sold eggs to make side money during World War II.
Bill recounted that "even when he enrolled at St. Ambrose, he cut classes for a week curing the trapping season to catch muskrat and mink! He also worked in the cafeteria and served the priests, which he was honored to do."
Joe graduated from St. Ambrose in 1951 college and served 4 years in the U.S. Air Force . After service, Joe studied law at the University of Illinois , obtaining his Juris Doctorate in 1958. Joe began a private law practice in Rockford concentrating in personal injury claims for over 50 years.
Joe helped many people through his law practice but empathy for the community lead Joe to spend countless hours and nearly all of his life savings to help redevelop downtown Rockford and other impoverished parts of the City.
"My Dad invested where others wouldn't," said Bill. "He lived by the parable that riches were not meant to be stored. 'He who lays up treasure for himself, is not rich toward God.' Dad knew we were meant to help others."
Joe didn't just invest his life's savings, he walked the neighborhood, picked up trash, engaged the neighbors and worked with the authorities to improve the area. As a result of his vision and work, the area saw many new professionals including lawyers, doctors, medical students and professional hockey players lease apartments, bringing hope to an area that had not seen a lot of investment in years.
Joe adopted Rockford as his second hometown and his vision and civic commitment encouraged others to follow, including his children, each of whom are blessed to share his servant's heart. Although the Great Recession challenged Joe financially, Joe truly became the "rich man who fit through the eye of the needle;" because Joe diminished his wealth for the good of others.
That's why it was so important to Bill that the family be sure that St. Ambrose received that gift from Joe. Aware of the impact of Covid-19 on organizations in Rockford, Bill talked to his siblings about supporting SAU now, when it was needed.
"Originally I thought supporting the Peace and Justice Program would reflect Dad's ideals," said Bill. "But in the end, I thought it should be used how the university saw fit. I'm pleased that Dad will be helping others attend St. Ambrose."
"Dad loved the music ministry and being able to attend Mass every day," he continued. "Later in life, going to daily mass was part of who he was and what kept him balanced. We want to give that opportunity to others."
Bill is delighted that his son Matt will be entering St. Ambrose next year to study for a degree in Social Work.
"Yes, we want to be sure that St. Ambrose is always there for us," said Bill.
And we agree.