Planned Giving Menu
Planned Giving

High Expectations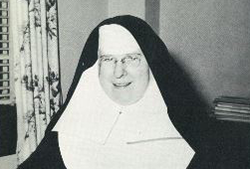 Sometimes being a professor is like being a parent; your students may not realize your wisdom until they're a little older. Students of Sr. Mary Brigid Condon, RSM will admit that is true in their experience.
"You didn't love Sr. Mary Brigid. She wasn't that type of person," Mary Walsh '61, '62 remembers. "You respected her, you liked her, or you disliked her. It's just the type of person she was. She had a no nonsense and do-it-right-the-first-time attitude, but she pushed us to be the best. She expected us to be the best possible nurses."
Sr. Mary Brigid served as the chair of the St. Ambrose nursing division and associate professor from 1954 to the mid-1960s. Aside from her high standards and strict disciplinary style, she was known for being a visionary in nursing education.
"She always felt nurses should be respected. At the time, nurses would stand up when a doctor entered the nursing station. Sr. Mary Brigid would tell us, 'You are a woman first and a nurse second. You should not have to stand when he comes in.'"
Rigorous classwork, high standards, and progressive thinking were Sr. Mary Brigid's recipe for preparing young ladies for then nursing field. And as her students moved into the health care profession, they began to see her wisdom in making students go above and beyond.
"Nurses were often told the doctor's orders and expected to do it. Sr. Mary Brigid taught us to think and question everything. If we were giving a medication and didn't know why, we should question, ask, and research until we knew the answer," Walsh said. "That became very important to me when I came to the University of Colorado. The nurses there were working with students and interns. I told my nurses they needed to be smarter than those doctors who had just started their careers."
Sr. Mary Brigid moved on from St. Ambrose to continue enriching the lives of others. She became well-known in the field of nursing education, with many published pieces and appointments to a variety of committees and councils. However, her crowning achievement was establishing the House of Mercy in Des Moines, a groundbreaking effort in 1988 to keep mothers with their children while they received the support they needed to overcome addiction, gain an education, and become independent. Today, the facility is one of Iowa's largest providers of transitional housing and clinical services for parenting women with addiction.
And despite the span of years, those nurses remembered Sr. Mary Brigid and her impact on their education. In honor of their 50th reunions from the nursing program, members of the classes of 1957 to 1961 contributed to a scholarship named in her honor to assist today's nursing students as they prepare for the healthcare field.
"One of my classmates went through school on a full scholarship. She said she never would have been able to attend without that assistance. She is now in her 70s and still working. I gave because I wanted other students to benefit from a scholarship and have that opportunity," commented Mary Walsh.
St. Ambrose also took steps to honor Sr. Mary Brigid's dedication to the St. Ambrose mission, first by awarding her an honorary doctorate in 1982 and then dedicating a computer lab to her in the Center for Health Sciences Education building in 2010.
Sr. Mary Brigid died in 2010, at the age of 93. Thanks to the generosity of her students, her legacy will continue to improve the lives of St. Ambrose nursing students for years to come.