Planned Giving Menu
Planned Giving

Lawrence (Larry) Smith '58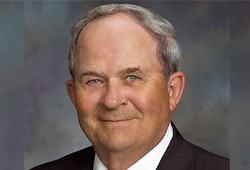 A passion for art is what led Lawrence (Larry) Smith '58 to St. Ambrose. Larry was an art major that studied under Fr. Edward Catich -where he met a friend and mentor that would keep him on track and teach him mental discipline. Little did he know that this individual would have such an impression on shaping his future.
When asked who had the biggest impact during his time at St. Ambrose, Larry very enthusiastically responded - Father Catich.Father Catich was one of the world's finest calligraphers. Larry stated, "He was quite a person."
Larry remembers fondly how Father Catich would visit him and the other male students who stayed in the GI Barracks behind Lewis Hall. He remembers how he would just sit and listen to jazz records on the students' stereo. Larry highly respected his art teacher. "He was tough, but it paid off," he said.
After graduation from St. Ambrose, Larry taught a freehand drawing class in Omaha after college. He then went on to hold a successful career in business communications with two pharmaceutical companies. In retirement, Larry spends time with woodcarving and outdoor photography, and also managed in the past four years to teach classes in calligraphy. "There are many different ways to apply, and expand, your art experience? If you have the talent, you keep it up however you can."
Father Catich had a huge impact on Larry's life. He wasn't just a priest, scholar, and art teacher; he was Larry's mentor and friend. In deciding to give back to St. Ambrose and to commemorate the life of Father Catich, Larry annually supports a scholarship that will benefit students enrolled in Strategic Communications. Larry understands the impact that this program had on his life, and wants to help give another student the same experience.
Larry also appreciates where his education at St. Ambrose took him professionally. That is why he decided to include St. Ambrose in his estate plans.
"After retirement, there comes a time when you and your spouse sit down and plan your estate, and plan your legacy," said Larry. "You have to think about the "who" and the "what" you want to remember - be it family members, charities, organizations, or universities. In retrospect, I think your university experience is critical because of many ways it will shape your future values and actions."
With Larry's generous support, his legacy will continue to live on at St. Ambrose University.