Planned Giving Menu
Planned Giving

Michael Hustedde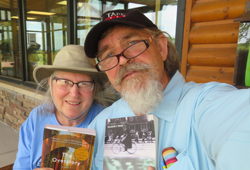 In 1982, an open position at Marycrest College brought Michael and Hedy Hustedde to the Quad Cities. During Michael's time there he got to know and understand the Quad City community, as well as the history between Marycrest and nearby St. Ambrose University. This history paved the way to the Husteddes' future legacy.
While at Marycrest, Michael learned about St. Ambrose through interactions with faculty and staff. In the 1980s, he took a class at St. Ambrose that would add English to his secondary teaching credential, "in case my position at Marycrest wasn't long lasting," stated Michael.
In the late 90s, Michael was asked by Neala McCarthy to teach a cultural geography course for the ACCEL (accelerated learning for adults) Program, which he then taught numerous times for several years. "The ACCEL program met an academic and professional need for working individuals in the Quad City area."
And, in the 2000s, Michael found his place working as a full-time faculty member at St. Ambrose directing the Writing Across Curriculum Program. The transition from Marycrest to St. Ambrose was one of ease. Michael knew many individuals who had made the transition from Marycrest before him as well as Ambrosians he had interacted with over the years. They all welcomed him warmly.
When asked, Michael would say that Ambrosians are, "really good people." He liked the innovative demeanor of faculty across all departments, and their active enthusiasm for engaging students. Feeling he found his "home," he remained at St. Ambrose as Director of Writing until his retirement in 2017.
Michael and Hedy have supported the University philanthropically annually for twenty years. They started giving to the annual fund, and then to multiple capital campaigns that supported priority projects of the university. Michael said they had benefited from moving to the Quad Cities and from St. Ambrose University in particular. "While we didn't have a lot to give, we always wanted to give back."
Now that time has moved on and Michael is retired, he and Hedy are in a place to do more. Not only do they thank St. Ambrose for supporting them for years, but their son and daughter-in-law, met, and graduated from St. Ambrose. The St. Ambrose connection runs deep within their family.
In the past, Michael always wrote checks for his gifts to St. Ambrose. This year, they made the decision to give differently, in the form of a planned gift through an IRA. One of the reasons Michael and Hedy chose to give through an IRA is the convenience. "It's an easy way to do it," he said. "I sign paperwork and it's done. Plus, it happens at a great time of the year – late summer/early fall."
"St. Ambrose invested in me, so I want to make sure I am continuing to invest in them."
Planned giving is special, because it's a way of saying that you believe in the ability of the institution to sustain its mission, and that you support the institution and its students for years to come. If you would like to learn more about planned giving through an IRA please feel free to contact the Advancement Office.