Planned Giving Menu
Planned Giving

John Butler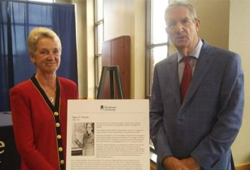 What does it mean to leave a legacy? It means putting a stamp on the future, and making a contribution to future generations. People want to leave a legacy because they want to feel that their life, or that of someone close to them, mattered. A legacy is a powerful way of connecting with those whose lives have inspired us. Legacies allow the memory of an individual to live on, long after they have left us.
John L. Butler, a Muscatine, Iowa native, knows something about leaving a legacy. John came to St. Ambrose on an academic scholarship after earning valedictorian honors at his Catholic high school. He received a Bachelor of Arts degree summa cum laude in History in 1971. His experience at St. Ambrose never left him. In fact, a memory of a favorite professor, a professor who "really opened my eyes to the world — history, geography, economics and more," is what inspired John and his wife, Holly E. Herman to establish a charitable gift commitment. This gift was named in honor of his former professor, Agnes C. Renner.
A mentor to John, Agnes Renner, joined the St. Ambrose faculty in 1946. "As a freshman, Miss Renner always kept my interest during her 8 a.m. western civilization class," John said. Miss Renner made her geography courses come alive based on her many foreign travels, and taught John other important lessons on how he could be successful. "She encouraged me to study hard, work hard, aim high and try — which I've appreciated" said John. Miss Renner taught at St. Ambrose until her death in 1973.
John remembered the impact that Miss Renner had on his education and career path. He went on to receive a Master of Arts degree from the Johns Hopkins University School of Advanced International Studies and to work on the Washington staff of U.S. Representative Jim Leach (R-Iowa). His career was in financial services legislative and regulatory policymaking. He wanted to make sure that Miss Renner would be remembered by future generations. "You look back at places and people who had a major influence on you and where you may not have gone if it weren't for them. She is clearly one of those people," said John.
John helped preserve Miss Renner's legacy through a blended gift to the university for an Academic Chair in the History Department in her name. This gift comes in the form of an annual donation as well as an estate endowment upon John and Holly's passing. Planned gifts enable individuals to create powerful philanthropic impact on the causes that are important to them. Blended gifts allow a donor to have an immediate impact while also leaving a larger estate gift.
When you reflect on your life, ask yourself, who has inspired you? And how do you plan on leaving your legacy?