Planned Giving Menu
Planned Giving

Bob Russell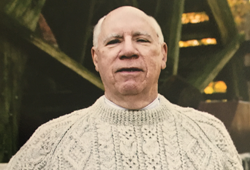 In high school, we explore different career paths. We take inventory of our skills, our passions, and our expectations. We use these descriptors to help us determine the best college to attend. Unfortunately, tuition is something that derails many individuals from attending, or continuing, postsecondary education.
Economics graduate, Bob Russell '63, knows all too well about the struggle students can face when it comes to finances. Bob started at St. Ambrose in 1959. The next year his father was diagnosed with cancer and passed away in 1961. Beyond being distraught over his loss, Bob now found himself in a financial dilemma. His father's job was the only income the family had. Bob didn't know how much his father made, but he said he knew they "were medium income people." Now, that medium income was none. Bob contemplated dropping out of school to find a job so he could help the family. Bob's mother wouldn't hear of it. She wanted Bob and his brother "to have a normal life," Bob said. "However, things became very difficult."
Luckily, Bob had received a loan, and he was able to obtain summer employment his junior and senior year at the National Can Corporation. Through this job he was able to save enough money to help with the finances. At this time, his mother was also able to gain employment. After her husband's passing she needed to return to work. She worked in a laboratory at an instrument company. "She loved her job," stated Bob.
It seemed as though things were looking up. Bob was able to save money, and his mother was managing to be what no one wants to be - a single parent. Things were turning around for Bob and his family. After Bob graduated, he took a job as a Special Agent for the U.S. Treasury Department in the Chicago area. This allowed Bob to stay close to home and help the family. Bob said it was important that he "got the family back to a level playing field." Bob used the money he was earning to pay off the loan from school, and the rest of the bills. Bob said, "You never put anything on credit," and he was proud that he never needed to.
In 1965, Bob obtained a full-time position with the National Can Corp. He worked at the headquarters for 30 years until his retirement in 1995. During his work in Material Management, Bob was able to attend Loyola University where he obtained his MBA through a tuition reimbursement program. He graduated in 1972.
Education is very important to Bob. He also believes in the ability to afford an education. When he retired, he went to work at Moraine Valley Community College where he became an adjunct professor and taught business classes for the next 15 years. Bob would watch as students would come and go. Work/life balance was tough for a lot of them and it reminded Bob how hard it was growing up in a single parent household. He knew he was lucky to have obtained a loan, and summer employment- not to mention, the luck of having a mother who was so hard working. He couldn't imagine how he could have gotten to where he was without this dedication. Bob said, "I made it, that's good, but I struggled."
Bob remembers his circumstances at St. Ambrose, "where nothing was available," in regards to financial aid. Bob didn't want that to be the case for another student who was experiencing his same situation. Fortunately, Bob has been happily married to Donna for 52 years and she shares in his sentiment. Bob said, "If you are fortunate enough to obtain an education, then it is your time to give back." And that is exactly what he and Donna have done. Through Bob and Donna's generosity, they have established an Endowed Scholarship with preference given to a student who comes from a single parent household. This scholarship will be funded over a 5 year period, and includes an annual gift so that it can be awarded while the principal is building to $50,000. "I want something to be available," said Bob. "Even if it only pays for a portion."
Bob has a lot to be thankful for. Overcoming adversity, becoming professionally successful, and his family. Bob, a true family man, loves to brag about his kids and his grandkids. A father of two Julie (Ken) and Robb (Suzi), and a grandfather of three, Katelyn, Megan, and Michela. Whom he affectionately calls his "grand girls." Katelyn is currently attending St. Ambrose which gives Bob great joy.
It is people like Bob who help continue to make a St. Ambrose education affordable and accessible. It is those people who come from challenging circumstances, and overcome a hardship to succeed in life that remind us that it's not always easy, but we can be successful.