Planned Giving Menu
Planned Giving

Honoring Bonnie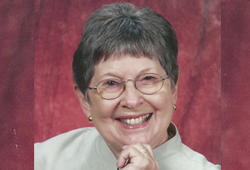 As one of four inaugural McFarlin Scholars, Tori Andrews '22, enrolled in the St. Ambrose Bachelor of Social Work program after graduating from Scott Community College. In College of Health and Human Services Dean Sandra Cassady, PT, PhD, Tori has found a mentor who can help her navigate the challenges of being a non-traditional student and mother.
"I see this relationship continuing to flourish as I go further in my education," Tori said.
The McFarlin Scholars Program is funded by the largest scholarship estate gift in University history ($1.38 million), and is a uniquely structured scholarship that provides financial aid as well as mentorship from one of four University Deans and the Provost. The financial assistance, when renewed over four years, totals $16,000 per student.
Such assistance is vital for current students, many of whom rely on scholarships and financial aid to meet their tuition costs. In fact, the University awarded more than $50 million in academic aid to students for the 2020 academic year. In such uncertain times, this aid not only provides stability for students, but also serves as an incentive for students to choose SAU over another institution.
"Students today pay significantly more in tuition and other costs than did our students from even ten years ago," said University Vice President for Advancement Jim Stangle '82. "Donors have been very generous in helping us keep a St. Ambrose education accessible and affordable for potential students and their families, and we are grateful for their support."
Shortly after her inauguration as University President, Sister Joan Lescinski saw a need to increase the endowed scholarship program. Since her arrival in 2007, the number of currently endowed scholarships has more than doubled. Today, 106 scholarships are available, with 22 additional scholarships funded through planned estate gifts.
Sally Crino '01, Associate Vice President for Advancement, has led the effort to grow the program.
"These gifts will help St. Ambrose students for generations to come," Crino said. "It's comforting for donors to know that even after we're all gone, their gift will continue to make the St. Ambrose experience possible for a student."
The impact of these scholarships go beyond tuition assistance. Today's students are developing a greater understanding of philanthropy and how others contribute to their education. This will result in a stronger St. Ambrose as we move forward, with more alumni living our mission than ever before, enriching lives so that they go forth and enrich the lives of others.