Planned Giving Menu
Planned Giving

Jim Wilson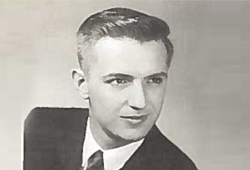 As a high school student in the late 1950's, Jim Wilson '65 knew he wanted to go to college. Like many students, however, he didn't have the best grades. Jim eventually attended an institution after graduating high school, but wasn't satisfied with his choice. "I inquired about enrolling at SAU", Jim recalls, "and I picked out classes from the handbook in the Registrar's Office—not at all like they do it today."
As luck would have it, on his first day at St. Ambrose, he met Gabe Verstraete '65. The two became fast friends, and maintain that friendship today. "Somewhere along the line sophomore year, we (Jim and his wife, Mary) introduced Kay and Gabe," Jim said. "I didn't see my friend as much after that, but it all worked out: they've been married just a year less than we have."
Nearing the end of his time as a student at St. Ambrose, Jim started seeking out options for attending a law school in the Midwest. "There were some options, but they were all too expensive." Jim said. While talking through his options with a professor, Dr. McMahon, Jim became aware of an opportunity to attend the University of Kansas. "(Dr.) McMahon picked up the phone, spoke with their Dean for a couple of minutes, and after some paperwork I was accepted into school." The deciding factor for Jim: the cost was low enough that he and his then-girlfriend Mary could get married and still afford tuition.
Many years ago, the Wilson's decided to include SAU in their estate plans. Jim described a recent development which, combined with advice from Gabe, provided an opportunity to make a current gift to SAU and could potentially provide some tax advantages.
"The good Lord has taken care of us, and I recently inherited some money that needed to go somewhere," Jim explained. "I knew that Gabe has been donating, and I asked him what mechanism he uses to do so. He mentioned his IRA to me years ago, and I asked him for more information."
The Wilson's new assets were in an IRA account, and through using the rollover provision, lessen their potential tax burden. "It gives us great financial support by doing it that way. It's money that would be going to you anyways, but it's a benefit for it to go straight to you. Ultimately, if it works right, there's additional money in our budget to give somewhere."
When deciding where to designate his gift, Jim recalled his own experience as a student. "The original choice was to send it straight to student scholarships. There's a number of decent students—not A or B students, but good students—who need money to come to SAU. I know I needed the money when I was a student."
After getting a campus update from Sally Crino, including news of the recent renovation and expansion of McMullen Hall, Jim decided to split his gift between that project and scholarships. "It seems like it (McMullen Hall) needed to get redone. Let's get it done. It will all benefit the University."
After completing the simple process of initiating the rollover provision and choosing which areas of campus to support, the Wilson's can rest assured that their gift will assist today's students access a St. Ambrose education.