Planned Giving Menu
Planned Giving

Dimitri Papageorgiou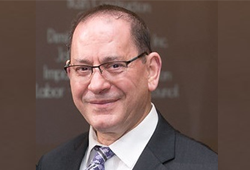 The St. Ambrose University Wine Festival is an event that raises funds to support student scholarships at St. Ambrose University and countless students have reaped its benefits. Someone who knows this first hand is Dimitri Papageorgiou. Dimitri and his wife Kathy '94 have been supplying this event with wine for the past 20 years.
Growing up in Greece, Dimitri's parents taught him at a very young age about helping others in need. He would run items from his parents to others in the community who needed them. During this time he also learned about wine making. His father shared his stories and expertise with him. Dimitri brought this wine knowledge and his passion for helping others to the United States in 1970.
Dimitri graduated from Truman University, earning degrees in accounting and business. While at Truman he received scholarships to help with his education. This is one of the main reasons he devotes so much to the SAU Wine Festival. He wants to support an event that raises funds for student scholarships like the ones he benefitted from.
After graduation, he and his wife moved to the Quad Cities where Papageorgiou became a comptroller for a local wine and spirits business, and in 1984, Dimitri started Dimitri Wine & Spirits, Inc., a whole sale wine distributer for Eastern Iowa and Western Illinois.
Twenty-one years ago, Ed Littig, (retired Vice President for Advancement at St. Ambrose), presented Dimitri with the idea of a fundraising event featuring wine. This event would focus on raising funds for student scholarships. Good wine and helping others was all it took for Dimitri to get involved.
In the early years of the Wine Festival, it was Dimitri Wine & Spirits and Terry Lunardi (owner of Lunardi's Italian Restaurant), providing for the event. As the event grew in popularity more local restaurants joined forces to make the event bigger and better each year. Papageorgiou said "the local restaurants give their hearts for this event and I could not do this without them. The support from the community is wonderful and so important." Along with providing all the wine for Wine Festival, Dimitri also contributes much more, such as hosting dinners and donating auction items. Since 2014, Dimitri Wine and Spirits has been a Reserva-level sponsor, giving a cash sponsorship of $10,000 annually.
When asked "why St. Ambrose," Dimitri said "As a kid who grew up helping others and my community, I wanted to help a very important institution in the area. Supporting an event that raises money to help students with their education was very important to me. I also have a passion for educating people about wine. The satisfaction of helping a student in need of an education is why I have been doing this for 20 years."
Anne Gannaway, Executive Director of Advancement says; "Dimitri and Kathy are the foundation of the St. Ambrose University Wine Festival. Without their involvement, we would not be able to celebrate our 20th anniversary of the Wine Festival and the $1.5 million raised for student scholarships. I've seen firsthand their tremendous generosity and I'm in awe of the many ways that they give back. Dimitri's passion for wine and helping others is inspiring!" Click here for more information about on this year's event. https://www.sau.edu/alumni/special-events/wine-festival